My beloved Uncle Yosef has always advised me to get away with professional car wash services in order to get away with the huge cost of it. He also tells me, "Hand care, is best care." I believed him for the longest time, as the idea has indeed saved me a thousand bucks–at least for now. I got rid of using top-line car wash soaps, as I loved how regular household product like liquid detergents gave my car a squeaky-clean feel. The doubt came up after enjoying 3 years of low cost manual car washing, upon seeing a colleague pass by with his shimmering, brand new-looking SUV. This colleague Nero purchased his car way earlier than I did. I sulkily stared as I notice my car looking so dull compared to his. How did I ever come short of my gentle, hand-care-best-care car washing routine? Just as I thought I could boast about my DIY car wash soaps and how they saved me a lot of money, I ended up frittering away a big sum of my savings to get my car a handsome finish at the professional car wash shop. "Hand care, best care" just does not apply wisely at all.
Choosing the best car wash soap, I painfully realized, can lead you toward the non-disposable pleasure of a well-maintained shiny car over time. Surely it does cost more, but it can save you from spending $500-900 in car paint restoration. So why are these home-made DIY car wash not doing you any good at all?
Disadvantages of using homemade, DIY car wash soaps (dish soaps, detergent)
Liquid dish soaps are designed to take off dirt and grease in an abrasive manner, which means it could easily break down your car's wax coat. So never blame your car maintenance pro why it only took a few weeks from your car's last wax application before its shiny finish wears off. Aside from stripping away wax, dish soaps and detergents speed up oxidation, leaving your car paint dull and unprotected in no time. These unsuitable cleaners are too harsh to use as it leaves microscopic scratches which later may become visible–and unbearable. They may be cheap and easy to find, but they're just not worth it.
Advantages of Using the Right Car Wash Soap
The best car wash soap you could choose has that slick texture, because it contains the right amount of lubricant. The lubricant contained in car wash soaps gently cleans by simply sliding all the gross dirt off the surface. A good car soap is PH balanced and is therefore gentle to use for each washing. Choosing the best car wash soap can even save you a lot of paint maintenance cost, as it lengthens the shine of your car wax or sealant. Listed below are top 10 car wash soap brands from Amazon, including an overview of their features, benefits, and reviews.
Top 10 Best Car Wash Soaps in Amazon
Meguiar's G7164 Gold Class Car Wash Shampoo & Conditioner
TriNova Car Wash Soap and Conditioner Concentrate 18oz (with Chenille Microfiber Wash Mitt)
Chemical Guys CWS_402_16 Mr. Pink Super Suds Car Wash Soap and Shampoo (16 oz)
Mothers 05632 California Gold Car Wash – 32 oz.
Armor All 10346 Ultra Shine Wash and Wax – 64 fl. Oz.
Adam's NEW Car Wash Shampoo Gallon
Chemical Guys CWS_107 Extreme Body Wash and Synthetic Wax Car Wash Shampoo (1 Gal)
Sonax (314300-755) Car Wash Shampoo Concentrate – 33.8 fl. Oz.
BMW car wash shampoo concentrate
Nanoskin (NA-CSS640) Cherry Suds Wash & Shine Shampoo – 5 Gallon
1) Meguiar's G7164 Gold Class Car Wash Shampoo & Conditioner 64oz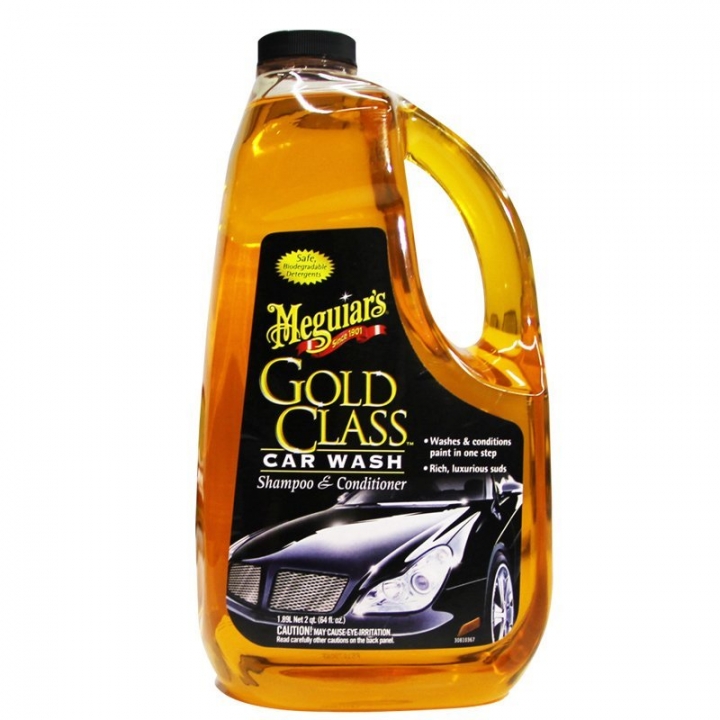 This has gotten on the top of the list as it is available with a great on-the-go package. Buy it solo for the price of $6.99 and order it with magnet towel plus mitt brittle for $28.94. It has been reviewed by over 1200 customers, and has a 4.7 out of 5 star rating. Its golden classy appearance is perfect for your well-loved 4-wheels. See product details here.
Meguiar's car shampoo does not only clean, but conditions paint in a single step. Its premium formula offers rich foam that gently slides away tough grime and dirt and contaminants. Its ultra rich paint conditioners clear away debris to reveal color and clarity, leaving paint look radiant. This car soap has safe and biodegradable ingredients and is therefore friendly to the environment! The fact that it is safe on all paint types is superb! It is so gentle it will not compromise wax protection.
2) TriNova Car Wash Soap and Conditioner Concentrate 18oz (with Chenille Microfiber Wash Mitt)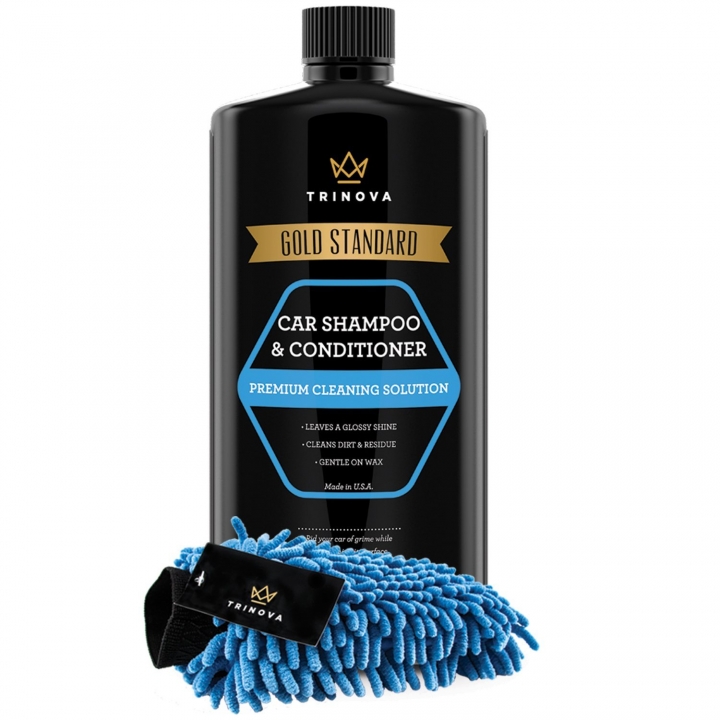 Rated full 5 stars and reviewed by 233 buyers, this car soap definitely is one of the top-notch brands. The price of $13.97 already includes a Chenille microfiber wash mitt together with the premium 18oz car shampoo. Check out further details here. TriNova Car Wash Soap is one of the best because it is:
EFFECTIVE – This premium automobile shampoo will cut through dirt, grime, grease, grit, and more to leave your vehicle looking shiny and ready to wax.
SAFE – The optimum solution for cleaning and conditioning without damaging wheels, rims, tires, paint, trim, rubber, or glass. Won't hurt carnuba waxed cars or cars protected with sealant.
VERSATILE – Works well as a two bucket wash or as part of a foam gun system. Perfect for weekly washes, as pH balanced detergent wont impact waxing and suds are designed to be slick and not leave scratches. Easy to use, just add water to concentrate and rinse.
A PERFECT ADDITION – A vital part of any detailing kit, keep on hand along with other accessories such as polish, buckets, hardware and more so you're prepared to deliver a professional finish right away.
3) Chemical Guys CWS_402_16 Mr. Pink Super Suds Car Wash Soap and Shampoo (16 oz)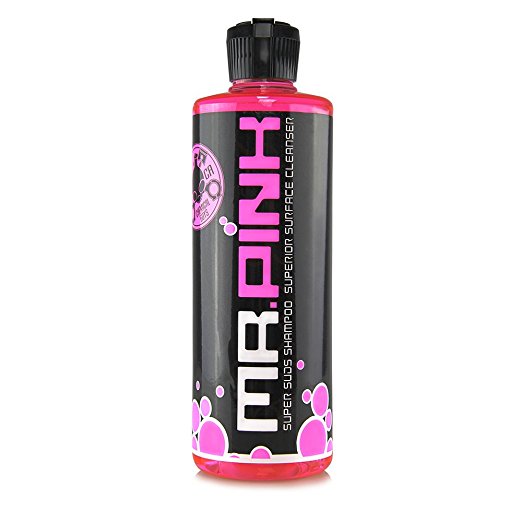 This brand offers good quality for a good price. A 16oz car wash shampoo costs only $9.45. It can be bought in packs and gallons, in case you get so in love with its pretty pink look and great features. See details and other size pricing here. The product is loved by 459 customers and is rated 4.4 out of 5.
The Mr. Pink Super Suds Car Wash Shampoo works specifically to remove grime, build-up and dirt through the use of premium super polymers that are suspended within the confines of a consistent discharge of foaming bubbles. The gentle cleaning power won't remove wax so you know your car is always protected. The Mr. Pink Car Wash Shampoo is gentle and surface safe so it can clean any area of your vehicle from wheels to paintwork. Mr. Pink rinses clean every time with no residue for a clean surface that will grab attention. The high level of foam produced by MR. PINK makes this high-tech detailing shampoo perfect for foam cannons and foam guns. The pH-balanced formula even allows you to wash your car or truck in direct sunlight.
4) Mothers 05632 California Gold Car Wash – 32 oz.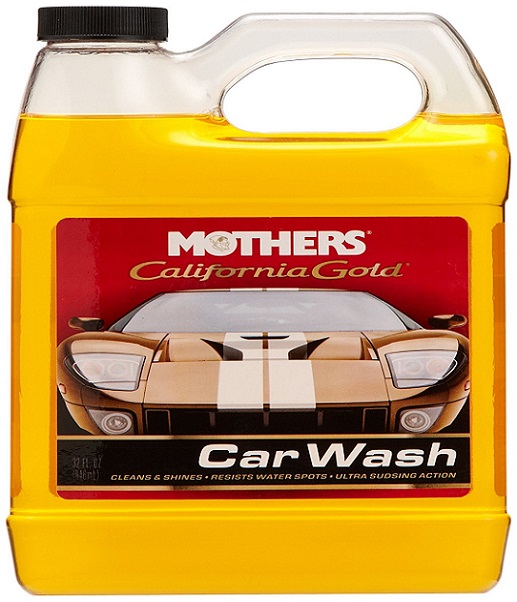 Fourth on the list is this lovely Mothers California Car Wash which has a delicate yet powerful cleaning formula and balanced PH that provide safety even with continuous use. It gently cleans to maintain your car's perfect shine. Mothers brand boasts also boasts of its super-sudsy formula that resists water spotting. It is designed to boost shine without removing wax. This car wash is strong enough to wash away dirt, road film, bugs, bird droppings, airborne pollutants and other grime, dulling the paint.
Mothers California Car Wash 32oz is available for $12.26. rated 4.7 out of 5 with 263 customer reviews. Check here to know more about this product.
5) Armor All 10346 Ultra Shine Wash and Wax – 64 fl. Oz.

If you want to reveal your car's radiant color, Armor Ultra Shine Wash is worth the try. Buy it from MaxWareHouse for the price of $13.81 and you'll get free shipping. One out of its 233 positive reviews revealed that the product gives great value for money, as it foams up very well, and lasts a good amount of time. One customer also said that his car came out like new after using it. Know more about this amazing car wash soap here.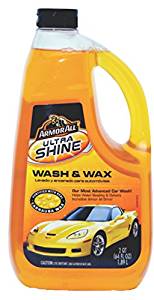 This car soap my Armor All also:
Delivers incredible Armor All shine
Gently lifts away dirt that can cause scratches and swirls
Helps water beading on your paint
Delivers mirror-like shine as you wash
Reveals your paint's deep radiant color
Armor All's Ultra Shine Wash & Wax was developed using the most advanced technologies available. It gently lifts away dirt that can cause scratches and swirls and deposits a layer of carnauba wax for a deep shine as well as protects the surface from nature's damaging elements. It delivers mirror like shine and protects the vehicle without any extra effort. Armor All has been making car wash products since 1982. So, for an Armor All clean and shine, get your mitts (or your sponges) on the one that's right for you.
6) Adam's NEW Car Wash Shampoo Gallon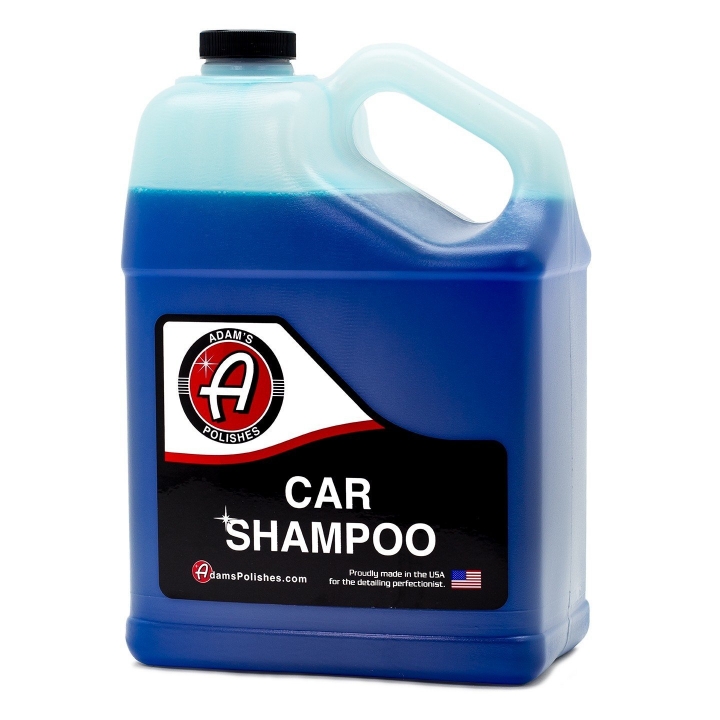 Purchase a gallon of high quality car wash soap for $45.99 and save a good deal of time and money.  Adam's new Car Shampoo formula delivers on all these needs and more! Its foamiest, most concentrated formula ever features the absolute best ingredients and premium cleaning agents to deliver a wash experience that you'll absolutely love. It all starts with the suds. Adam's New Formula Car Shampoo is our foamiest formulation ever, producing tons of thick lather with just a few ounces of the concentrated gel in a bucket, foam gun, or even a foam cannon. More importantly the suds sustain for longer!
Adam's Car Shampoo is slicker than ever, using a blend of advanced cleaners and polymers to create a slick feel, lubricating the paints surface as it lifts dirt away, and reducing the chances of ever introducing damage to your delicate clear coat.
This car soap got 16 full 5 star reviews!
Full details here.
7) Chemical Guys CWS_107 Extreme Body Wash and Synthetic Wax Car Wash Shampoo (1 Gal)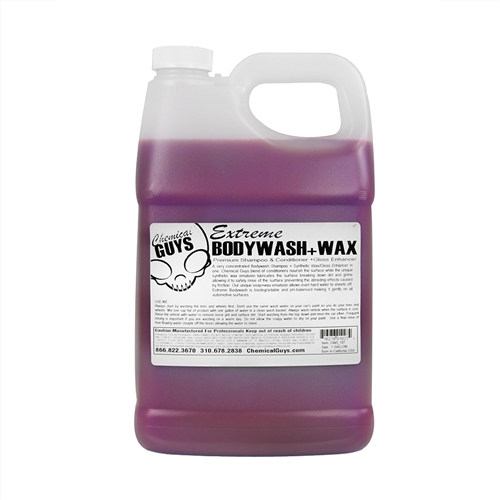 Another goodie from Chemical Guys. A good price of $19.65 for a 1-Gallon car shampoo.  Rated 4.7 out of 5. What did the 197 satisfied customers like most about this product? According to Chemical Guys in Amazon:
The Extreme Body Wash and Synthetic Wax is a very concentrated body wash shampoo and synthetic wax/gloss enhancer in one. Conditioners nourish the surface while the unique synthetic wax and carnauba wax emulsion lubricates the surface breaking down dirt and grime allowing it to safely rinse of the surface preventing the abrading effects caused by friction. The Extreme Body Wash and Synthetic Wax is a unique soap and wax emulsion that allows even hard water to sheet off. Formulated with a synthetic and carnauba wax that greatly reduces water spots by limiting the ability of calcium to dry to the surface. Super concentrated yet pH-balanced making it gentle on all automotive surfaces.
See detailed info.
8) Sonax (314300-755) Car Wash Shampoo Concentrate – 33.8 fl. Oz.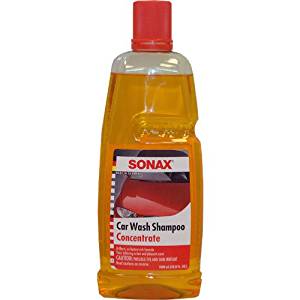 Price: $15.99
Amazon Rating: 4.7 of 5, reviewed by 34 customers. See more.
Take a look at this handy car wash soap by Sonax and its great features:
Gentle on paint surfaces – won't strip wax
Brilliant, surfactant-rich formula
Phosphate free, ph-neutral formula
Thick lathering action and pleasant scent
Safe for all finishes and leaves a brilliant, clean shine
Sonax Car Wash Shampoo Concentrate is a highly effective, phosphate free formula that penetrates and loosens tough dirt without damaging or stripping the protective layer. The special anionic surfactants within, adhere to dirt particles and act as emulsifiers absorbing and dissolving oil droplets. Sonax Car Wash Shampoo Concentrate is safe for all finishes and leaves a brilliant, clean shine to your paint surface every time!
9) BMW car wash shampoo concentrate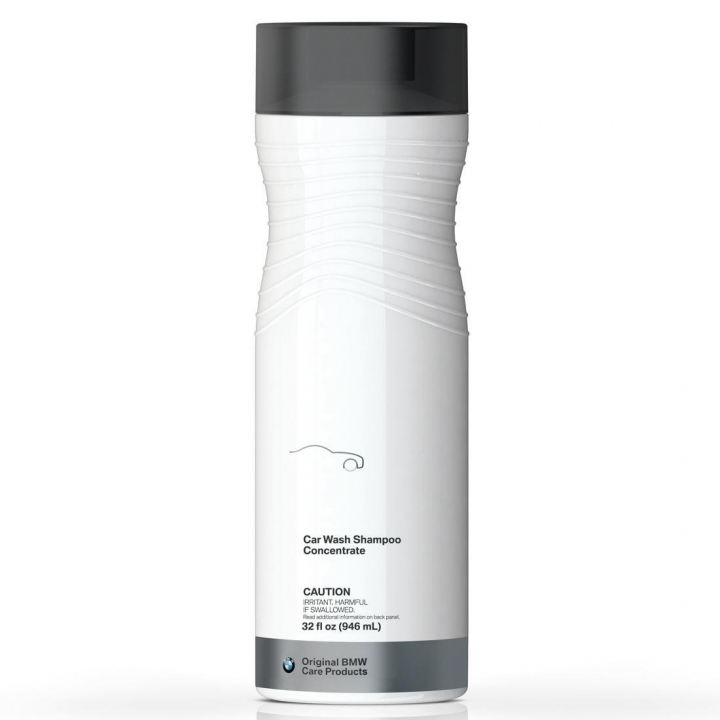 Definitely one of the elite brands, formulated especially for BMW! The best car wash soap for BMW has been manufactured by the brand itself to ensure perfect gentle care for your luxury car.  Together with its elegant look comes great features you'll surely love:
This BMW Car Shampoo is a specially-formulated vehicle wash that brings out the vehicle's ultimate factory finish while protecting the wax layer during washing. Be impressed with its rich lather, that thoroughly and cleans gently without leaving residue on your black BMW's precious surface. See more.
Make your BMW happy for the price of $12.99.
10) Nanoskin (NA-CSS640) Cherry Suds Wash & Shine Shampoo – 5 Gallon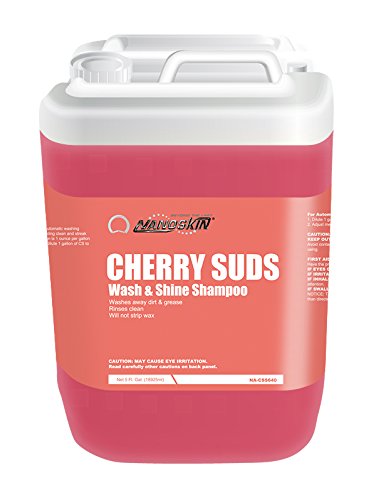 Want extra savings? You can buy a Nanoskin Cherry Suds Wash and Shine Shampoo for a reasonable price of $54.17. It washes away dirt and grease, rinses clean, and will not strip wax. Discover more.
Cherry Suds is a thick, super concentrated, high foaming car wash soap. Excellent for hand or automatic washing systems. The thick foam and water sheeting action washes away dirt and grime, while it rinses sparkling clean and streak free. Environmentally friendly and cost effective. Dilutes 1 part CS to 128 parts water. General dilution is 1 ounce per gallon of water. For hand washing, dilute 1 oz. of CS to 1 gallon of water. For automatic car wash systems, dilute 1 gallon of CS to 10 gallons of water. Then adjust metering system for maximum foam and cleaning performance. Compatible with EVERGREEN Shampoo Gun.
WASH YOUR CAR LIKE A PRO!–
How to properly (and safely) wash your car

Have you chosen the best car wash soap for your beloved wheels yet? You might as well have done so after reviewing the best car wash soap products listed above. I have ordered the best one from Amazon, what should be next?
Take on these easy valuable steps on how to properly wash your car:
Prepare 2 buckets of clean and clear water. This is the very first step to avoid mixing of contaminants.
Mix the right amount of the best car wash soap ever in one bucket, and use the other to rinse out your mitt or sponge.
Dip the sponge in the first bucket and generously apply the suds all over your car's surface.
Rinse the sponge thoroughly in the second bucket, then dip again in the soapy bucket to repeat shampooing. Avoid washing your car under direct sunlight or when your car's surface is still hot, as these may quickly dry up the soap and leave white residues that are hard to remove.
Rinse your car with generous amount of water to slide all the suds off. Use a microfiber towel to dry the surface. Never air dry your car as it is the primary cause of hard water spots that takes a lot of time to wash.