You wake up before sunrise to prepare for work, anticipating you'll arrive at the office on time. You get in the driver's seat and twist the ignition key. The car won't start and you find out your battery is dead. Being early for work just isn't happening today, unless you got one good car jump starter to get you through.
Lithium Jump Starters: What are they?
A lithium jump starter is a handy and highly-portable jump starter that can conveniently charge your battery and start your engine. It is made up of lithium-ion battery and is compact and light weight compared to a regular lead-acid car jump starter. It also comes with extra USB ports so it can also be used to charge your phone and other electronic devices.
How does lithium jump starters differ from lead acid car starters?
Lead acid car starters is a rechargeable battery composed of lead oxide with a mixture of sulfuric acid and water. This traditional type of car jump starter is also known as SLI, as its designed for starting, lighting and ignition. While the best lithium jump starters are lightweight, compact, and portable, lead acid car starters have low energy-weight ratio. They are heavy and bulky, yet produces less energy output to your car's battery compared to lithium-based starters. Lead acid batteries have been around for over a century and lithium-ion batteries has taken over its popularity.
 Why are lithium jump starters better than lead acid car starters?
Lithium-based batteries has displaced the need of having another car's battery help you jump start your engine. It has also replaced the good old heavy and inconvenient use of lead acid car starters.
Efficiency and Portability
It would take a lot of effort to carry a heavy-loaded lead acid starter into your car and lifting it to be positioned near and stable enough to attach the cables. The best lithium-ion jump starters are incredibly handy, light and portable.
These lithium-based starters are not only useful in jump starting your engine. They are designed with USB ports so you won't ever have to worry about your gadgets' batteries getting drained while traveling.
Compact Energy
Lithium-ion batteries have advanced chemical composition, preventing self-discharge or self-loss of energy. These type of batteries or starters can still function properly even if left unused for over 2 years. They also have greater cycle life and can last for up to 8-9 years compared to lead acid types that only have over 2 years of life span.
Value
Lithium-ion jump starters may cost relatively higher. But considering life span and performance, a lithium jump starter still provides the best value for money compared to its lead acid counterpart that could cost you too much in preventive care and maintenance alone.
In case of unexpected battery failures, it is wise to always have a good lithium jump starter handy. Here are ten of the best lithium jump starter from Amazon:
1) NOCO Genius Boost Plus GB40 1000 Amp 12V UltraSafe Lithium Jump Starter
Price: $89.90
Rating: 4.5 of 5 stars, 812 customer reviews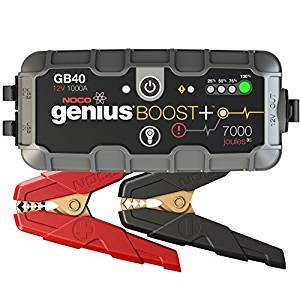 Compact, yet powerful lithium jump starter rated at 1,000 amps (7,000 joules3s) – up to 20 jump starts on a single charge
An ultra-safe and mistake-proof design with spark-proof technology and reverse polarity protection, which allow it to safely connect to any battery
An ultra-bright 100 lumen LED flashlight with 7 light modes, including SOS and emergency strobe
Recharge your personal devices on the go, like smart phones, tablets, e-watches and more – up to 4 smart phone recharges
Designed for gas engines up to 6 liters and diesel engines up to 3 liters for cars, boats, lawn mowers and more
NOCO genius boost+ gb40 1000 amp ultra safe lithium jump starter the gb40 is a compact, yet powerful 1,000 amp lithium-ion jump starter that delivers 7,000 joules of starting power. Its patented safety technology features spark-proof technology and reverse polarity protection making it safe for anyone to use. Designed for use with gas engines up to 6 liters and diesel engines up to 3 liters and doubles as a portable power source for recharging smart phones, tablets and more
2) [Ultra Compact] Anker Compact Car Jump Starter and Portable Charger Power Bank

Price: 159.99
Rating: 4.4 of 5, 1,241 customer reviews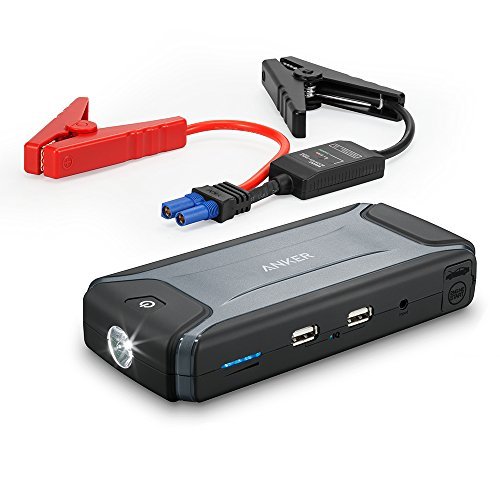 Life Saver: Able to jump start your 3L gas or 2.5L diesel, 12V engines around 15 times with 400A peak current. 10000mAh battery recharges in just 3 hours using the included chargers.
Advanced Safety: Ensures total protection against reverse polarity, surges and short circuits. Emergency flashlight built in.
Compact & Lightweight: Small enough to store in your glovebox (unlike most jump starters) with 2X USB charging ports.
What You Get: Anker Jump Starter Portable Charger, Jumper Cables, 15V Wall Charger, 15V Car Charger, welcome guide, our fan-favorite 18-month warranty and friendly customer service.
3) Antigravity Batteries AG-XP-10 Multi-Function Power Supply and Jump Starter

Price: 199.99
Rating: 4.2 of 5, 2,155 customer reviews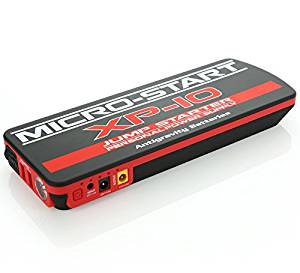 Jump-Start Diesels up to 7.3L, and gas engines. Massive 18000 mAh capacity! Charge & Power most any electronics: 19V Laptops, 12V Devices, two USB 5V Devices
LED Flashlight built-in featuring ultra-bright steady beam mode plus two flash patterns
Lightweight at only 18 oz, and compact for portability: 9 inch x 3.2 inch x 1.25 inch
Automatic power-off when not in use
The Micro-Start XP-10 is unrivaled for performance & quality in the mini jump-start segment. It was the TOP RATED Jump Starter by Consumer Reports. That says a tremendous amount about the quality and abilities of Antigravity products. This is our most powerful jump-starter & personal power supply (PPS). Only 9″x3.2″x1.2″ it's small enough to fit in your hand yet has the amazing power to JUMP-START Diesel vehicles up to 7.3L, and any Car, Truck, Motorcycle or powersports vehicle. XP-10 has 300 Amps starting current with 600A Peak! It has proven to be the go-to device for professional mechanics as well as everyday Drivers, Riders and Travelers.
Conveniently, XP-10 can also CHARGE & POWER most any of your devices. Four ports: 19V for Laptops (not compatible with Apple 16V laptops) + 12V standard output (for GPS, mobile DVD players, small fans, etc) + TWO 5V USB ports (for Smartphones, Tablets, Cameras, MP3 Players, Bluetooth devices, more). Massive capacity: 18000 mAh.
MORE FEATURES: Hi-power 110-Lumen LED Flashlight built-in + Lighted battery capacity indicator + Automatic power-off when not in use + Built-in over-charge & over-discharge protections for long battery life. XP-10 comes with Leatherette Carry Case + Accessories.
KIT CONTENTS: 1 Micro-Start XP-10 PPS; 1 set of SMART Mini Jumper Clamps (with thermal protections & multiple safety features: prevent reverse polarity connection, over-charge, over-discharge, short-circuit, back-charge); 1 universal Cable for 12V accessories and use with 8 detachable Laptop Tips (fits many but not every laptop charging port. Fits: Apple, Acer, Dell, HP, Asus, more); 1 universal 4-into-1 USB Cable (Tips: Mini USB, Micro USB, Apple 8-pin, Apple 30-pin); 1 mobile Charger (plugs into cigarette lighter socket); 1 home/wall Charger. Simply charge the Micro-Start once & take back-up power anywhere! Whether commuting, camping or traveling, be confident you can start your vehicle, make an important call or finish that last bit of work.
4) Schumacher XP2260 1200 Peak Amp Instant Portable Power Source and Jump Starter

Price:$175.99
Rating: 4.1 of 5, 727 customer reviews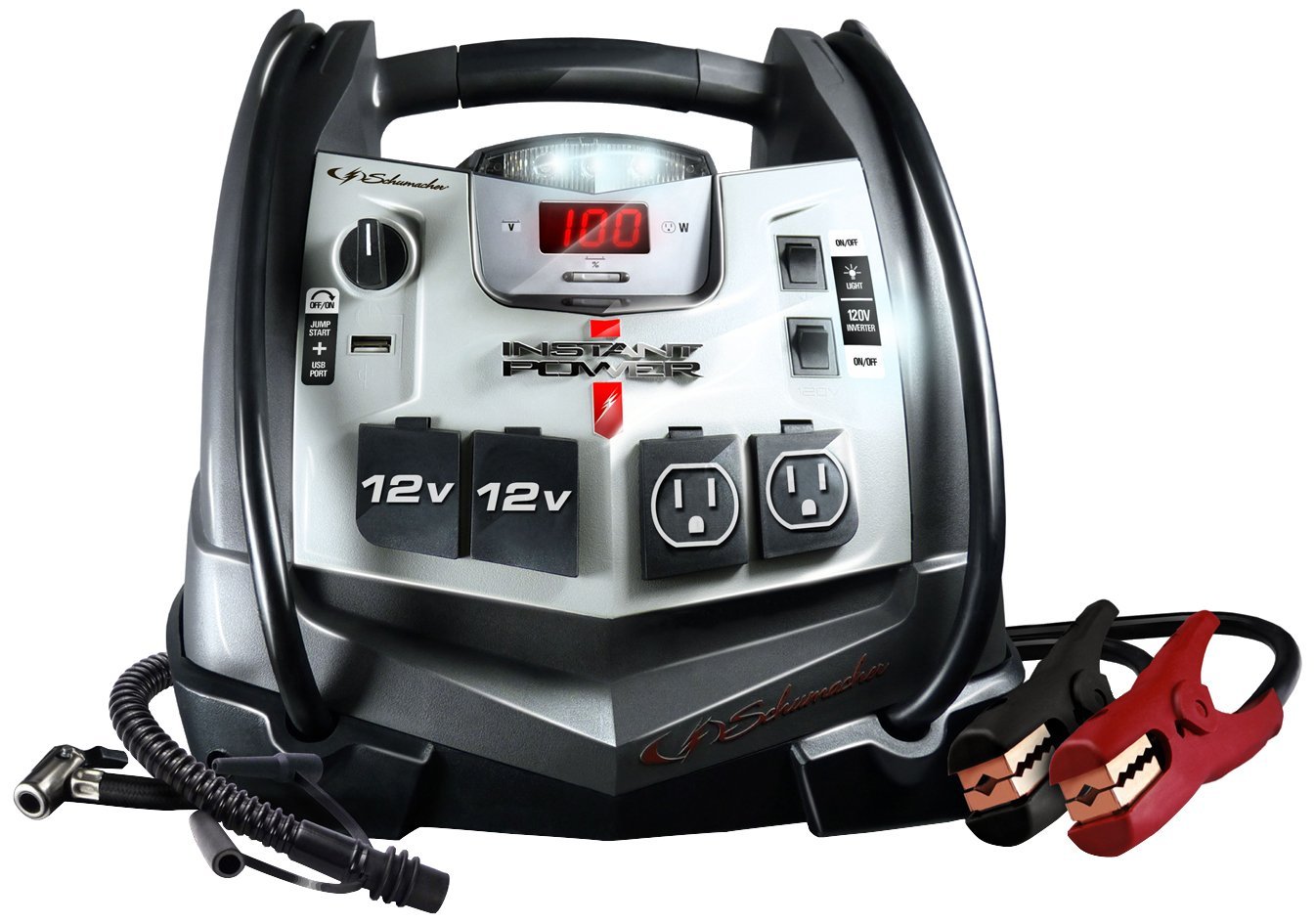 On/Off switch activates the jump starting mode
Built-in charger for automatic charging of internal battery
Battery status LEDs indicate when battery is charged or needs to be charged
Sure-Grip clamps fit both top and side-mount batteries
A maintenance-free, sealed lead acid battery allow for storage in any position
Special Shipping Information: This item cannot be returned and has additional shipping restrictions
This Schumacher Instant Portable Power Source has an on/off switch that activates the jump start mode. A built-in charger for automatic charging of the internal battery; just connect an extension cord to the plug to recharge (cord not included). The battery status LEDs tell when a battery is charged or needs to be charged. The Sure-Grip Clamps fit both top and side-mount batteries. The cable will stay flexible in the coldest weather. A maintenance-free, sealed lead acid battery allow for storage in any position
5) CAR ROVER 60C Discharge Rate 800A Peak Portable Car Jump Starter Phone Power Bank

Price: $199.99
Rating: 4.3 of 5, 133 customer reviews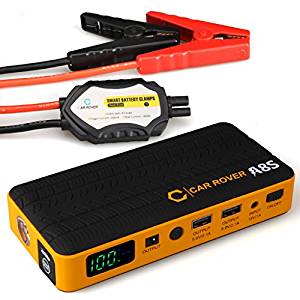 3-In-1(The Multi-Functional Car Jump Starter Combines Three Functions In One): With 800A Peak Current output and 60C Discharge Rate, it can start 6.0L and lower Gas engine & 3.0L and lower Diesel turbine of 12v vehicles; Can be used as a mobile power bank; LED flashlight function. (Important Note: Please turn on the main power switch before use.)
14000mAh Rechargeable Battery Capacity: With Dual USB Charging Ports, it can charge for 5V Smart Phone, tablet PC, camera, GPS device, MP3, wireless headphone, hand-held gaming machine, etc. it can also charge for 12V/16V/19V extra devices such as laptop, interphone, recorder and so on at speeds of up to 2.1 amps per port overall.
LCD Display Screen & LED Function: The battery percentage will be shown on the screen, you can easily know the battery status. With LED flashlight function, it has three modes available: Illumination/SOS/Warning.
Safety Protection: The Smart Safety Clamps(with 8 gauge cable) has Over-current protection, Short-circuit protection, Overload protection, Over-voltage protection, Over-charge protection. It can prolong the jump starter lifespan.
What You Get: CAR ROVER Jump Starter A8S, Intelligent jump cables, 12V Wall Charger, 12V Car Charger, User Manual, Our fan-favorite 12-Month Warranty and friendly customer service.
 6) GOOLOO 700A Portable Car Jump Starter 18000mAh Phone Power Bank Auto Battery Charger Pack Booster

Price: $239.99
Rating: 4.6 of 5 stars, 218 customer reviews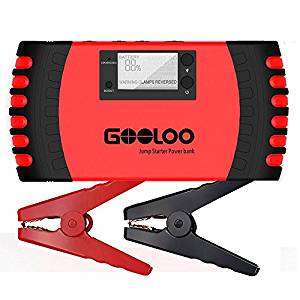 Car Jump Starter : Jump start your vehicle (up to 6.5L or 5.0L diesel engine) up to 20 times with 700 Amps of peak current and smart safety clamps. Work for motorcycles, motorboats and snowmobiles . Note: Full Charge it Before using!
18000mAh Power Bank: Dual USB outputs charge your tablet, phone and other devices at the speed of 2A Per Port
Advanced Safety: Built-in Smart Protection, overcurrent protection, short circuit protection, overvoltage protection and overcharge protection. Protect your devices and car from damaging.
DC Cigarette Lighter Socket: Ideal for any accessory with a 12v cigarette lighter plug fitted Power socket with short approx. Such as inflator, car refrigerator . LCD Screen: tell you the status of the battery and when to charge. Ultra Compact: fits inside the car easily.
Ultra-bright LED light with SOS and strobe light modes. What you get: GOOLOO Jump starter, 12V battery clamps, Car Charger, Wall Charger(with UL Certification), Storage Case, User Manual, 18-month warranty and professional after-sale service
3-in-1
A portable battery charger, a car jump starter, and a LED flashlight, all fit into a minimal and portable design. Whether it is your car or your USB devices, never run out of power again. Store it in the glovebox or simply drop it in your bag. Have a concentrated 18000mAh source of power always with you.
Built-in Protection Features
The GOOLOO GP180 built-in safety protection. Over current protection to avoid circuit damage, short circuit protection to avoid damage to the power supply, overload protection to protect its own battery, Over-voltage protection to auto-stabilize the output voltage to avoid damage to the connected device in cases of abnormal voltage, and over-charge protection to auto shut off to prevent damage to electronic devices.
7) Stanley J7CS 350 Amp Battery Jump Starter with Compressor

Price: $79.99
Rating: .2 of 5 stars, 2,993 customer reviews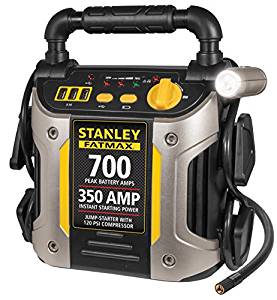 350 instant/700 peak battery amp jump starter
120 psi compressor with backlit gauge
Usb port and 12v power outlet
High-Power 270-degree pivoting led light
Reverse polarity led indicator and audible alarm
USB port and 12v power outlet
The Stanley FatMax 700a peak jump starter offers a convenient, portable way to jump start your battery without the need of another vehicle. With enough power to jump start your truck, car, motorcycle, boat, RV or tractor, the jump starter is ideal for every day use or roadside emergencies. Simply attach the clamps to the vehicle battery and if connected improperly the alarm will sound, alerting you to switch the clamps before turning on the unit. The jump starter features a 120 psi air compressor with easy-to-read backlit gauge to inflate tires, sport equipment and more and alternative 12-volt and USB power sources for power outage emergencies and charging needs.
8) Beatit 600A Peak 14000mAh 12-Volt Portable Car Jump starter Booster Battery Charger Power Bank Vehicle Emergency Kit, Compass & Built-in LED Flashlight
Price: $59.99
Rating: 4.5 of 5 stars, 172 customer reviews
[POWERFUL & COMPACT] : Jump start your vehicle (up to 5.5L(T)gas or 4.0L(T) diesel engine or Motorcycle, oil boat and sleigh, etc) up to 30 times with 600 amps of peak current and heavy duty clamps and cables. Car Jump Starter has an incredibly large 14,000 mAh capacity battery, which means you can crank up any size of passenger car. Compact enough to store in your glovebox.
[QUICK CHARGE] : With 14000mAh Capacity and our adaptive smart IQC charging technology, charge phones, tablets, camera, kindle and other devices at speeds of up to 2.1 amps (10W) port overall. Recharges in just 5.5 hours using the included wall or car charger, but we charge 110% faster, save your 50% time.
[6 IN 1 MULTI-FUNCTION]: (Emergency jump start, USB quick charge,LED flashlight, S.O.S lighting signal for help, compass,power extend ). It can help you In any case when you are adventure, outdoor, daily, emergency, high and low temperature(-25°c to 60°c) etc.
[PROTECTION]: An safe and mistake-proof design with spark-proof technology and reverse polarity protection, which allow it to safely connect to any battery. The high quality Circuit boards, chip CPU and cables has over current protection, short circuit protection, overload protection. The high quality lithium battery which allow it to Provide stable strong Peak and current voltage, but not explode!
[WHAT YOU GET] : Beatit Jump Starter B9, jump cable clamp, 12V wall charger, 12V car charger, use cable, A Manual,portable compressive case (Gift), 3-year Warranty and friendly customer service. Our products have passed international authoritative organization certification, can be at ease use
9) DBPOWER DJS40 300A Peak 8000mAh Portable Car Jump Starter for Gas Engine up to 2.5L with Built-in LED Flashlight, Black/Yellow

Price: $56.99
Rating: 4.5 of 5, 571 customer reviews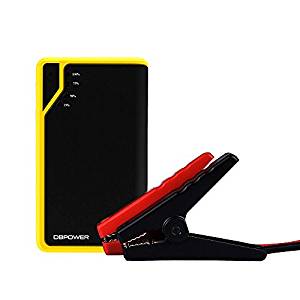 A must have for every car!
Make sure you and your loved ones can get home when stranded. This will jump start your 2.5L gas engine up to 20 times on a single charge.
3 Modes LED Light
It has 3 modes LED light (high, strobe and SOS), It's an emergency life saver when you go camping , picnic, outdoor adventure or investigation.
Portable USB Charger
It charges cellphones, tablets, kindles, anything with a USB port and then some. Charge your device together anywhere anytime.
Super Slim
Unlike traditional bulky jump starter packs, it's small enough to store in your glovebox and light enough to pack in your bag. Slim enough to charge your device as a power bank. Small enough to hold as an iPhone 6.
For Optimal Use:
Charge the jump starter at least once every 4 months to avoid shortening its lifespan.
Compatible with 2.5L and lower gas engines.
Recharge your vehicle's battery as soon as possible after jump starting.
ATTENTION:
If less than 25% charged, it may not be able to start your engine.
Do not connect the positive and negative polarity together when it's power on.
Package:
1x DBPOWER DJS40 Portable Jump Starter
1x Crocodile Clips
1x Android USB Line
10) Jump-N-Carry JNC770B 1700 Peak Amp Premium 12-Volt Jump Starter – Blue
Price: $157
Rating: 4.7 of 5, 2,938 customer reviews
1,700 Peak Amps; 425 Cranking Amps
Clore Proformer Battery Technology
68″ 2 AWG Welding Cable Leads
PowerJaw Clamps
Built-in 3A Automatic Charger
Power. It's the calling card of a Jump-N-Carry jump starter. Absolutely reliable power. The new JNC770B is no exception. Its Clore PROFORMER battery is specifically developed to perform the jump starting application and is designed to deliver exceptional cranking power, extended cranking duration, numerous jumps per charge and long service life.