Save Money Repairing Car Surface Scratches
Cars are manufactured with exterior finishes comprised of different layers: primer, colored paint, and a final very thin top layer known as the clear coat. Scratches on your well-loved cars are annoying and seriously disappointing but the truth is, they are inevitable no matter how extremely careful you are. The best car scratch removers in the market are designed to effectively remove defects on the clear coat and even on the layers underneath. Examples of repairable defects that the scratch removers are able to easily repair include fine scratches from automatic car wash brushes, vegetation scrapes, etc.
How does it Work
Premium car scratch removers are based on a simple 3-tiered approach to scratch removal: sanding to reduce the scratch, application of a rubbing compound and refining of the scratch area, and finally polishing and restoring the scratch area using a polishing pad, scratch remover compound and a common household drill.  Another important step is to apply car wax in the repaired area to protect the paint's finish, since you have removed an area of its clear coat. When removing a scratch from the car's painted surface, you are removing a very thin layer of the clear coat paint. This procedure is usually done by professional technicians in automotive shops, detail shops, and assembly plants for an expensive price. Now you can do it yourself for a much lesser cost.
Evaluating the Paint Surface
Before applying a premium compound to a car's surface, it is recommended to begin by washing and drying the car thoroughly, as it will allow evaluating the surface of a vehicle for the presence of various defects needing correction. Defects or scratches are defined into two categories, above surface contaminants and below surface defects. Above surface bonded contaminants include industrial fall out, paint over-spray, tree sap mist, and bird droppings. Below surface defects include fine scratches, swirl marks, etching, and oxidation.
Above surface bonded contaminants often cannot be seen but they can be felt, running a clean hand over the paint of a vehicle immediately after washing and drying it.
Below surface defects generally cannot be felt, but they can be seen, especially in strong, direct light. Good lighting is critical to evaluating the surface of the paint, because most cars will look good in the shade; therefore it's recommended to inspect the car's finish in direct sunlight or under strong fluorescent lights. Spider web swirls come primarily from the washing and drying process when poor technique or tools are used; for example, the use of old towels, dishwashing detergents, coarse sponges, and so on. Holograms however, are a specific type of defect caused by the improper use of a high speed rotary buffer. These types of defects not only mar the finish but reduce the paint's ability to reflect light clearly and cleanly, making the paint appear dull, faded and washed out. Removing below surface defects like light scratches, swirls, oxidation and bird dropping etching restores the clarity and reflectivity of the paint, making colors more vibrant and reflections more brilliant.
Compounding or "paint cleaning", should not to be confused with washing because it is the process of removing below surface defects. This can be accomplished with "liquid paint cleaners" that contain chemicals and/or abrasives to help deep clean and level the paint of the vehicle. With a good set of scratch removers and compounds, you can now correct the most common type of below surface defects, like swirls and holograms.
A Few Tips about Applying Ultimate Compound
Liquid paint cleaners should be applied to small areas at a time, when working either by hand or with dual-action polishers. Working small areas at a time allows concentration on the work and to remove compound before it dries.
Keep the following points in mind when working with any "paint cleaner" compound; paint cleaners do not need to dry before removing and in fact should be wiped off immediately after you've worked them over the finish. If they dry, the can be difficult to remove. For a compound, simply go over the same area again with more compound layers to re-wet the surface and then remove it while it's still wet. Paint cleaners need to be worked into the finish; they are not wiped on, wipe off products. Use a moderate amount of pad pressure to achieve optimum performance.
We have provided you with a good list of the best scratch remover you can purchase on Amazon. See the product details and features below to know which works best for your car's stubborn scratches.
1) 3M 39071 Scratch Removal System
Price:  $23.69
Rating: 4 out of 5 stars, 318 customer reviews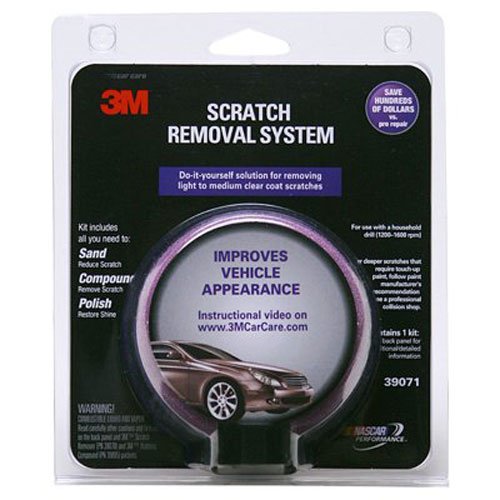 Auto scratch remover system takes out light paint scratches and scuffs
System uses a 3-step repair approach
Kit sands, compounds and polishes the repair area
Easy-to-use kit comes with all of the special supplies needed
Kit restores flawless appearance of car, truck or van
Key features:
Guaranteed to remove light paint scratches and scuffs from your vehicle's outer clear coat finish
Three tiered repair system that is easy to use
Minimal additional items required along with kit, including: household drill, microfiber cloth, water and a spray bottle
Saves users money by performing scratch repair themselves, while improving the paint appearance
What's in the Box
The 3M Scratch Removal System contains one disc pad holder, one 3000-grit abrasive square, one purple compounding pad, one black polishing pad, one 3M rubbing compound (1 oz), one 3M scratch remover (1 oz), and step-by-step directions for use.
2) Meguiar's G17216 Ultimate Compound Scratch Remover

Price:  $10.24
Rating: 4.3 out of 5 stars, 1,205 customer reviews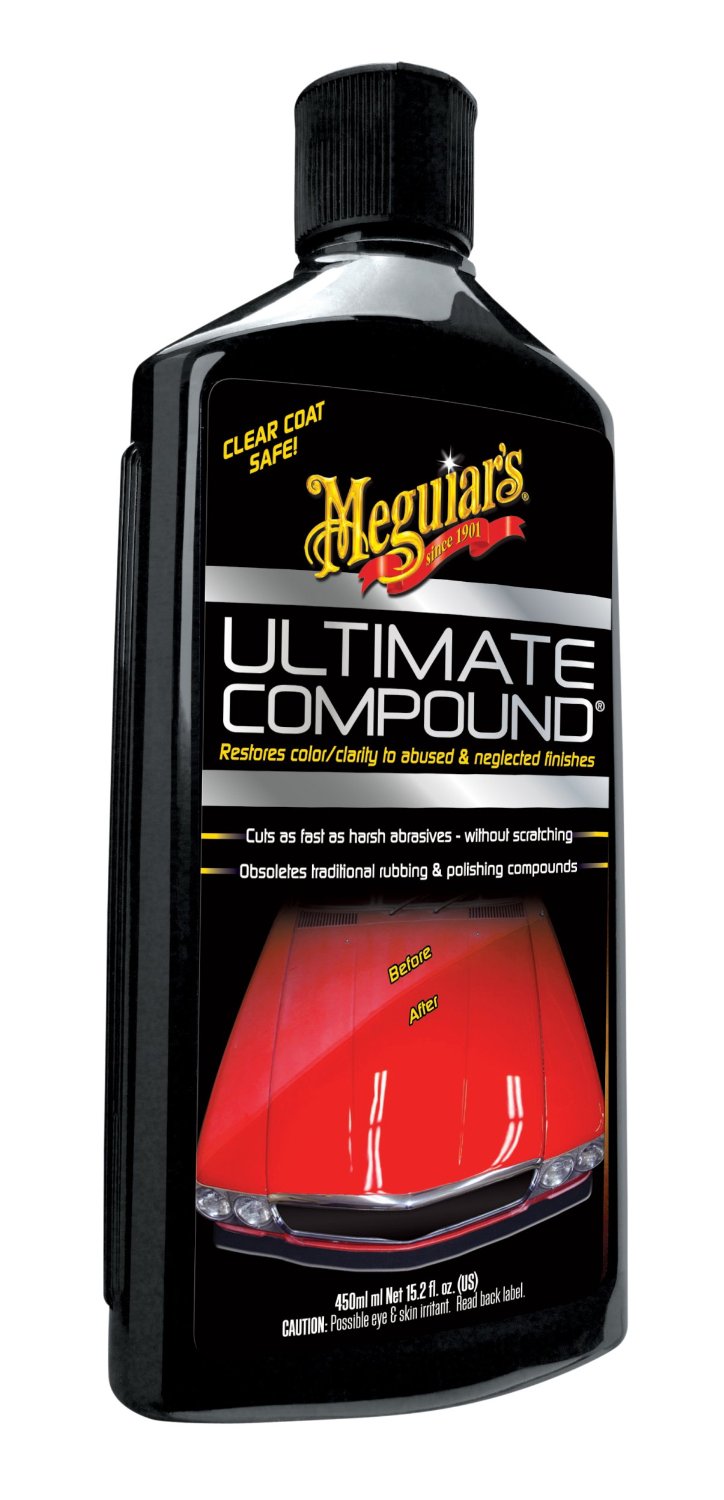 The ultimate product for removing oxidation, scratches, water spots, and blemishes without scratching
Cuts as fast as harsh abrasives restoring surface clarity without scratching or swirling
Formula dramatically reduces the time and effort to restore abused or neglected paint finishes
Exclusive micro-abrasive technology leaves a "like new" finish and adds gloss in one easy step
Safe and effective on clear coat and single stage paint and can be applied by Hand or Dual Action Polisher
Safely restore the color and clarity to abused and neglected finishes with Meguiar's Ultimate Compound. Meguiar's revolutionary formula and exclusive micro-abrasive technology cut as fast as harsh, gritty abrasive compounds, but without scratching a vehicle's paint or clear coat finish. This scratch remover saves tons of time and effort, compared to traditional rubbing and polishing compounds. Meguiar's Ultimate Compound quickly removes oxidation, light scratches, water spots, light bird dropping etching, and stains.
3) Mothers 08408 California Gold Scratch Remover – 8 oz.
Price:  $18.69
Rating: 4.1 out of 5 stars, 48 customer reviews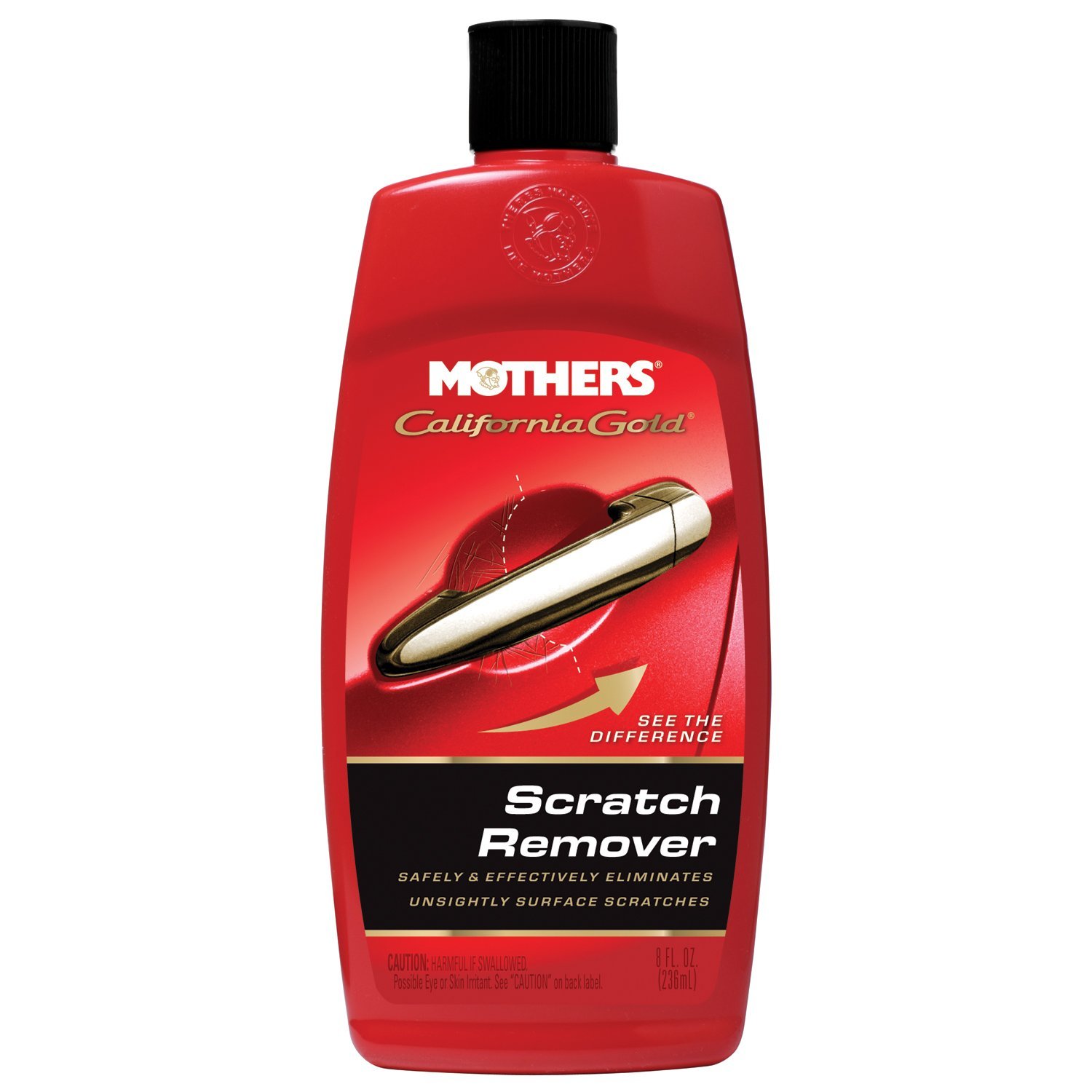 Works on any finish to restore paint and remove surface scratches
Best to follow up with a waxing to properly seal and protect
Easy to use bottle for a little help here and there
Regular use provides a long lasting benefit to your vehicle
There are areas of your paint's finish that see more abuse than others: on the edges of doors and the trunk lid, around the door handles, keyholes, at the hood latch, etc. What you need is a scratch remover. Mothers Scratch Remover works on any sort of finish to help restore high mileage paint and remove surface scratches. This is a true polish—be sure to chase it with the standard regimen of waxing to properly seal and protect.
4) Formula 1 Scratch Out – Scratch Remover

Price:  $23.69
Rating: 4 out of 5 stars, 318 customer reviews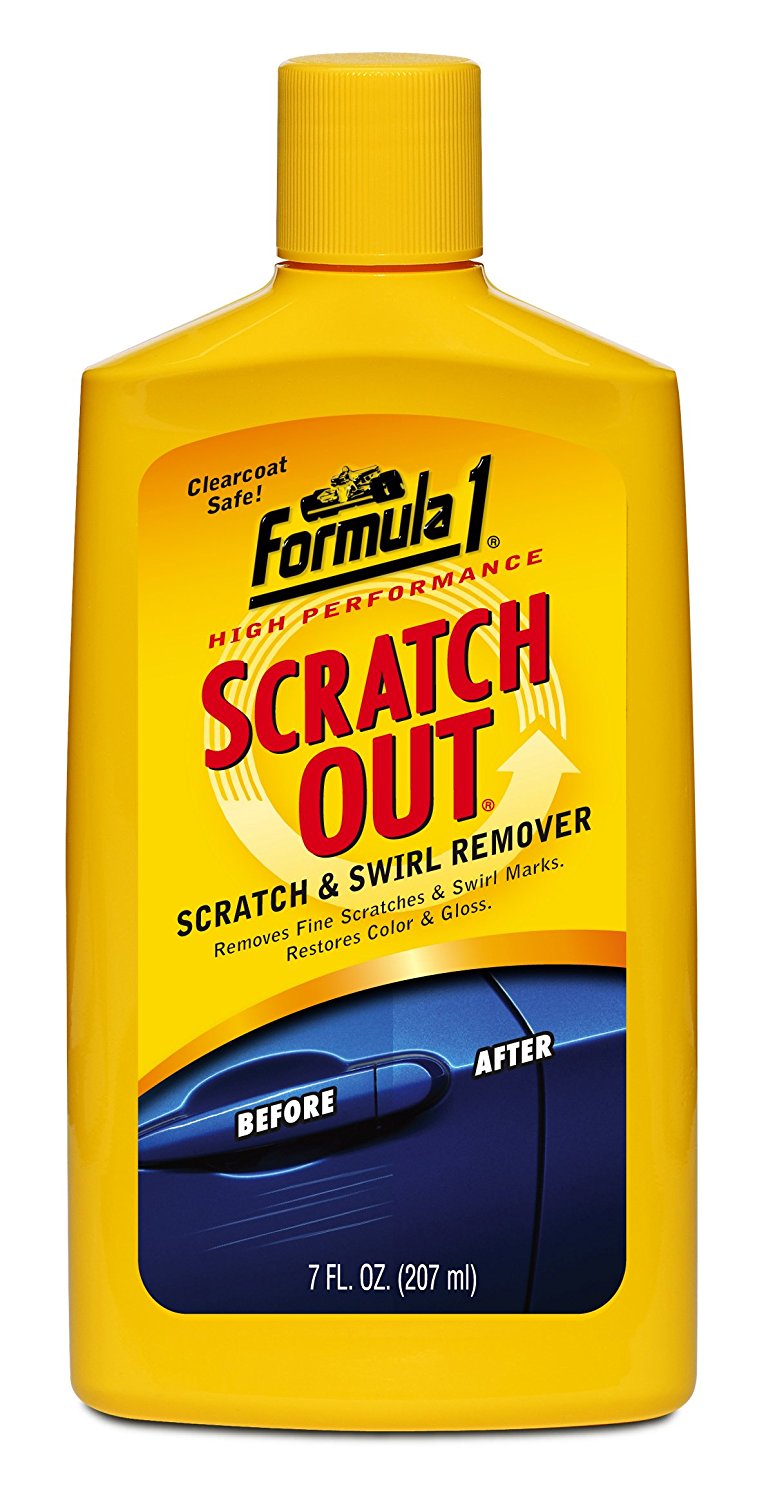 ADVANCED MICROPOLISHERS – Formula 1 Scratch Out liquid scratch remover contains micro polishers that are able to remove fine scratches and swirl marks, as well as clear haze on your car's coat finish.
RENEW YOUR VEHICLE'S LOOK & COLOR – With this unique liquid wax, you can restore your vehicle's paint color to a brighter, more vivid hue. It leaves any type of paint with deep color and shine. You don't need to spend heaps of dollars on disappointing "professional" services. This liquid wax can do the fixing for you.
NON-ABRASIVE LIQUID WAX – Formula 1 Scratch Out contains powerful Carnauba wax that protects your car or motorcycle from water beading. It comes in a liquid formulation that effectively and quickly removes the blemishes on your automobile
USER-FRIENDLY SCRATCH REMOVER – This high-grade liquid scratch solution is incredibly easy to use, making it great for first-time users and home use. Simply pour onto a clean, dry cloth after cleaning your car. Using circular motions spread it evenly over scratched areas.
This liquid cleaner restores automotive paint to its natural rich color and gives off a glossy shine. Cleaning your car with regular car shampoo won't remove the imperfections on the paint. You'll need the heavy duty strength of Formula 1 to restore your vehicle's shine. This high-performance wax contains advanced micro polishers that help fill in and remove minor scratches while clearing away hard-to-remove haze. In addition, this scratch remover can clear yellowed, scratched, and hazy headlights and tail lamps. The wax is safe for all paint finishes, including clear coats.
5) Nu Finish Scratch Doctor
Price:  $11.99
Rating: 3 out of 5 stars, 258 customer reviews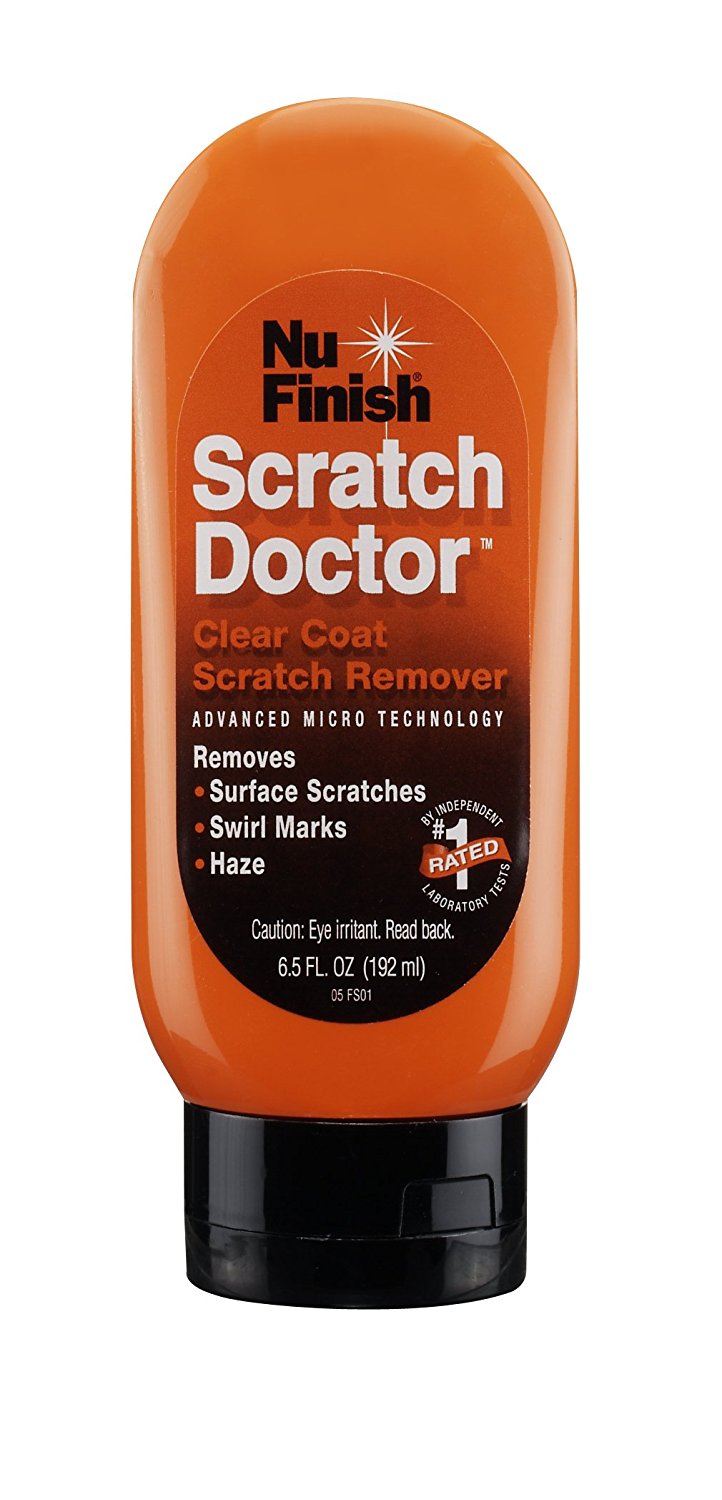 Rated #1 surface scratch remover by independent laboratory testing versus other leading car scratch removers
Unlike other scratch removers, Nu Finish Scratch Doctor won't leave behind more scratches than it removes
Great for removing paint scrapes, scuffs, haze, and swirl marks
Use on fiberglass boats, motorcycles, and airplanes, or chrome household appliances
Reduces the appearance of deep scratches and comes in a convenient inverted 6.5 oz. bottle
Nu Finish Scratch Doctor is easy to use and guaranteed. Unlike other scratch removers, Nu Finish Scratch Doctor won't leave behind more scratches than it removes. This premium scratch remover is excellent in kicking out paint scrapes, scuffs, haze, and swirl marks. Use on fiberglass boats, motorcycles, and airplanes, or chrome household appliances. This product is also trusted in reducing the appearance of deep scratches, and is available in convenient 6.5-ounce inverted bottle.
 6) Quixx 00070-US Paint Scratch Remover Kit

Price:  $19.95
Rating: 3 out of 5 stars, 95 customer reviews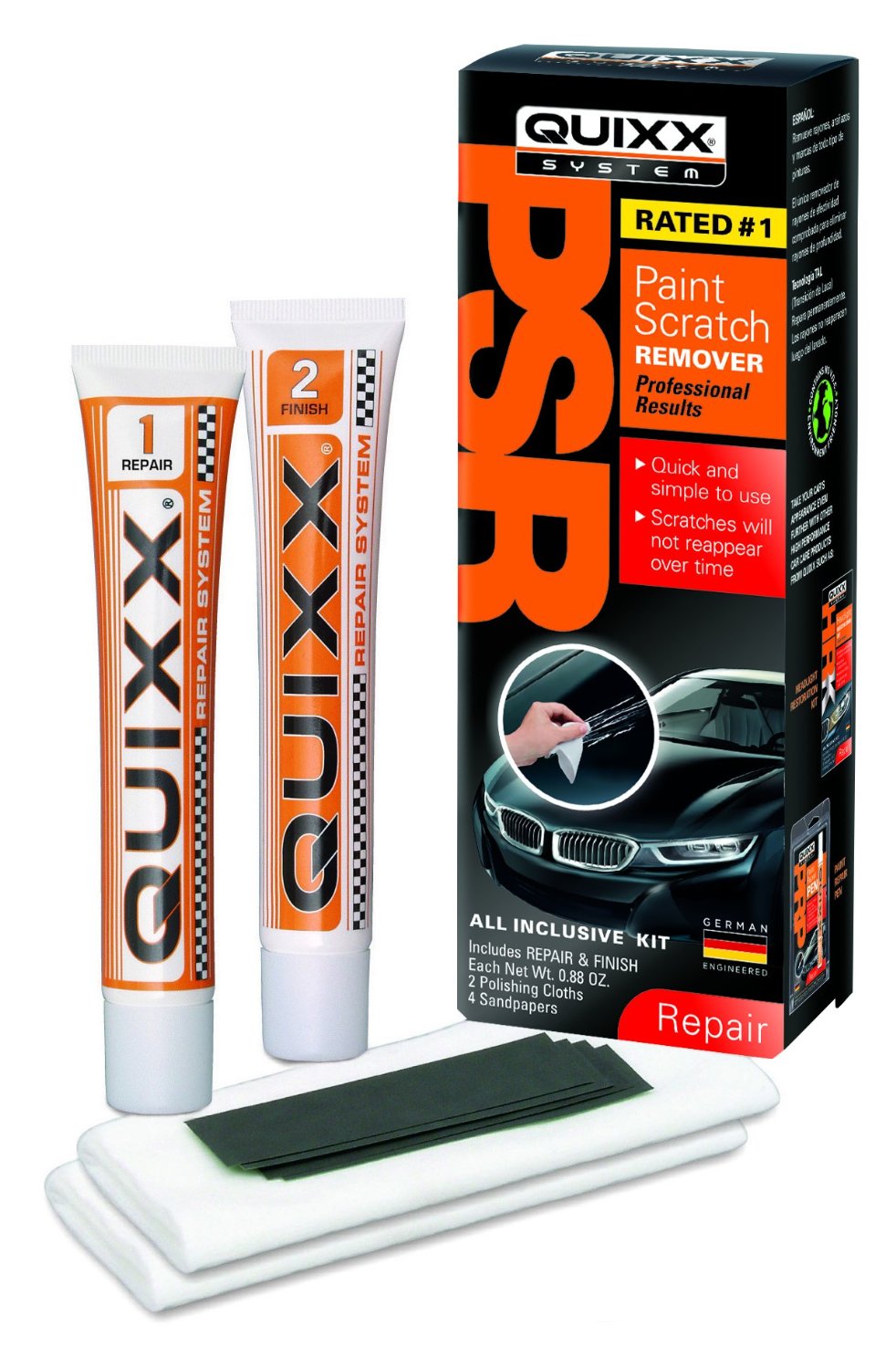 Permanently removes scratches, small marks and scuff marks – Will not reappear over time
Suitable for all gloss paints and colors (including metallic)
Quick and simple 2-step process
Will not damage vehicle's finish
Quixx Paint Scratch Remover is the most effective way to remove scratches from the painted surfaces of a car. This scratch remover does a simple two-step repair system that works conveniently to permanently remove scratches from a car's surface. As the first step, a patented compound works with the paint material surrounding the scratch to remove the scratch from the surface permanently. The second step restores the finish to its original shine.
Using a scratch remover on a car that carefully repairs and completely removes the scratch has never been easier, rather than just covering it up only to have it reappear after a few car washes. This outstanding scratch remover is an excellent repair system that through a detailed process called Plastic Deformation, effectively removes scratches from all paint finishes quickly, safely and permanently.
7) 2 PCS Fix It Pro Clear Car Coat Scratch Cover Remove Repair Painting Pen Clear Coat Applicator for All Cars, Not for Deep Scratch

Price:  $16.99
Rating: 3.4 out of 5 stars, 8 customer reviews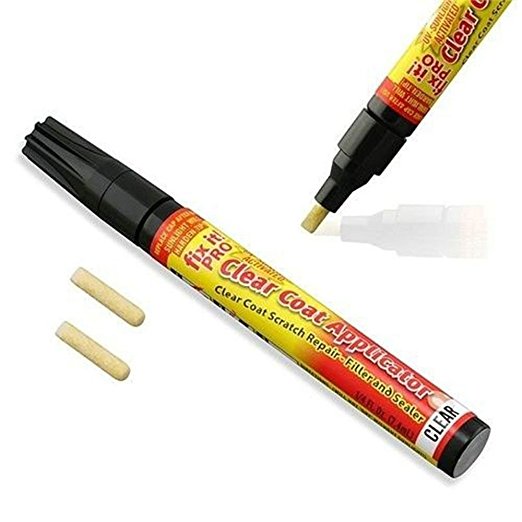 Can be used on any car, in any color, spare tip included, DON'T use it for a deep scratch. Keep Pressing Until Liquid Flows Out.
Excellent design for clearing coat scratch repair, a must item for car lovers and drivers.
Features as non-toxic, permanent, odorless and water resistant.
Portable, non-toxic & easy to use, 3 easy steps, very simple to apply.
Packet content: 2 pcs x Magic Fix It Pro Car Scratch Repair Remover Filler Sealer Pen 2 x Spare Tips.
How to use: Just keep pressing until liquid flows out. Shake Fix it! Keep Pro applicator thoroughly with cap on. Apply Fix it! Pro in shaded area
with tip pointed, down PRESS & RELEASE spring tip on a surface until tip is saturated. Protect tip from sunlight! It takes around 40 presses to saturate the tip
Apply along & into damaged clear coat. Work quickly; Fix it Pro cures in direct sunlight. Apply at temperatures above 55 degrees (F).
Quickly wipe off excess with dry paper towel, as Fix it Pro can cure rapidly. Allow to cure in sunlight until dry (1-48 hrs).
8) Turtle Wax T-241A Polishing Compound & Scratch Remover
Price:  $5.49
Rating: 4.2 out of 5 stars, 156 customer reviews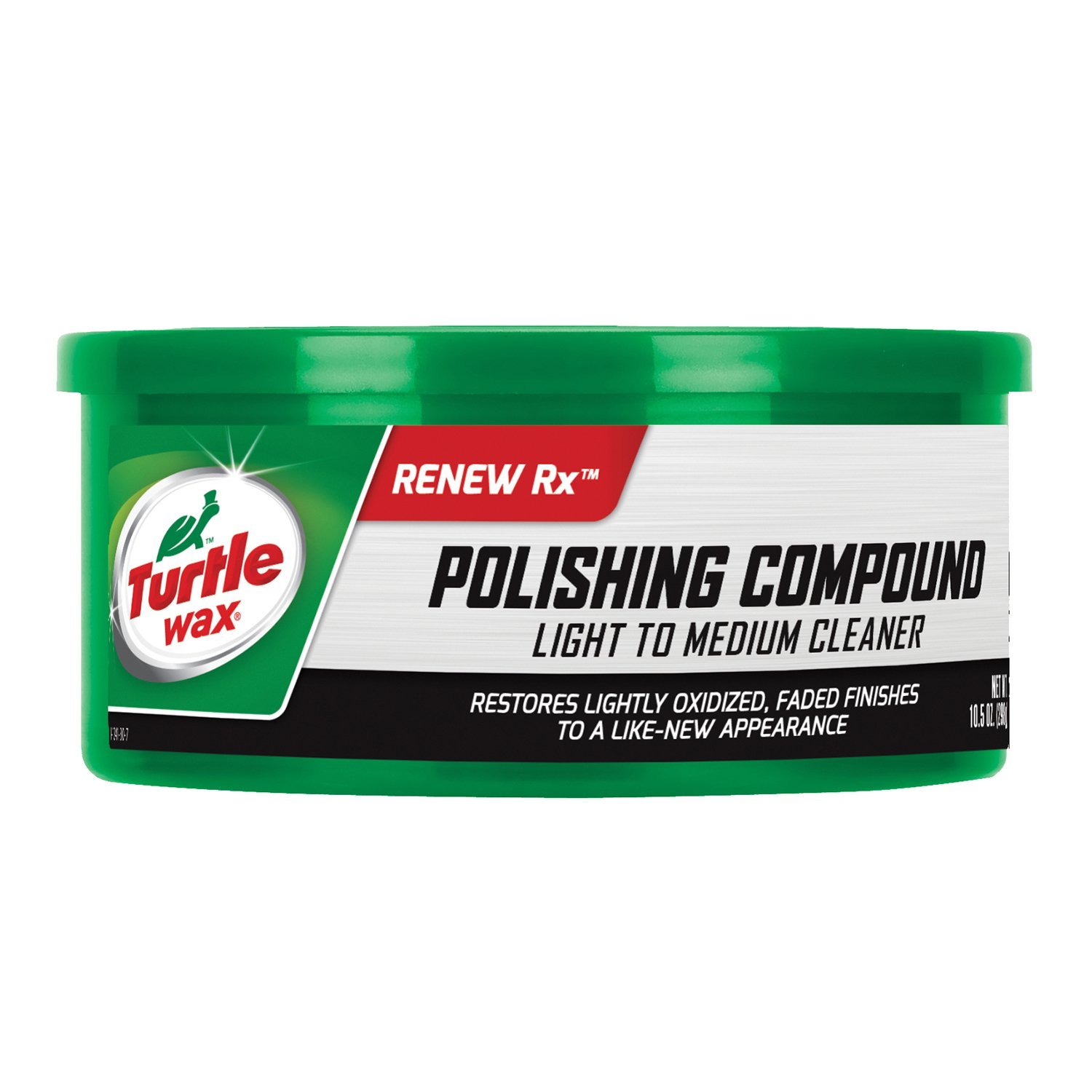 Heavy duty paste that cleans dull, oxidized finishes
Quickly and easily penetrates through the oxidized surface to remove scratches, blemishes and stubborn stains
Restores faded finishes
Recommended for rubbing down between coats of newly sprayed lacquer and acrylic car finishes
Easy to use formula
Turtle Wax is the number one selling brand of car care products in the world with sales in 90 countries. Founded more than 60 years ago in Chicago, the company is recognized for manufacturing appearance and performance car care products for the retail consumer market and the commercial car care and professional detailing industries.
9) Barrett-Jackson Car Scratch Remover with a Polishing Compound for Premium Car Scratch Repair and Car Polish

Price:  $9.08
Rating: 3.5 out of 5 stars, 41 customer reviews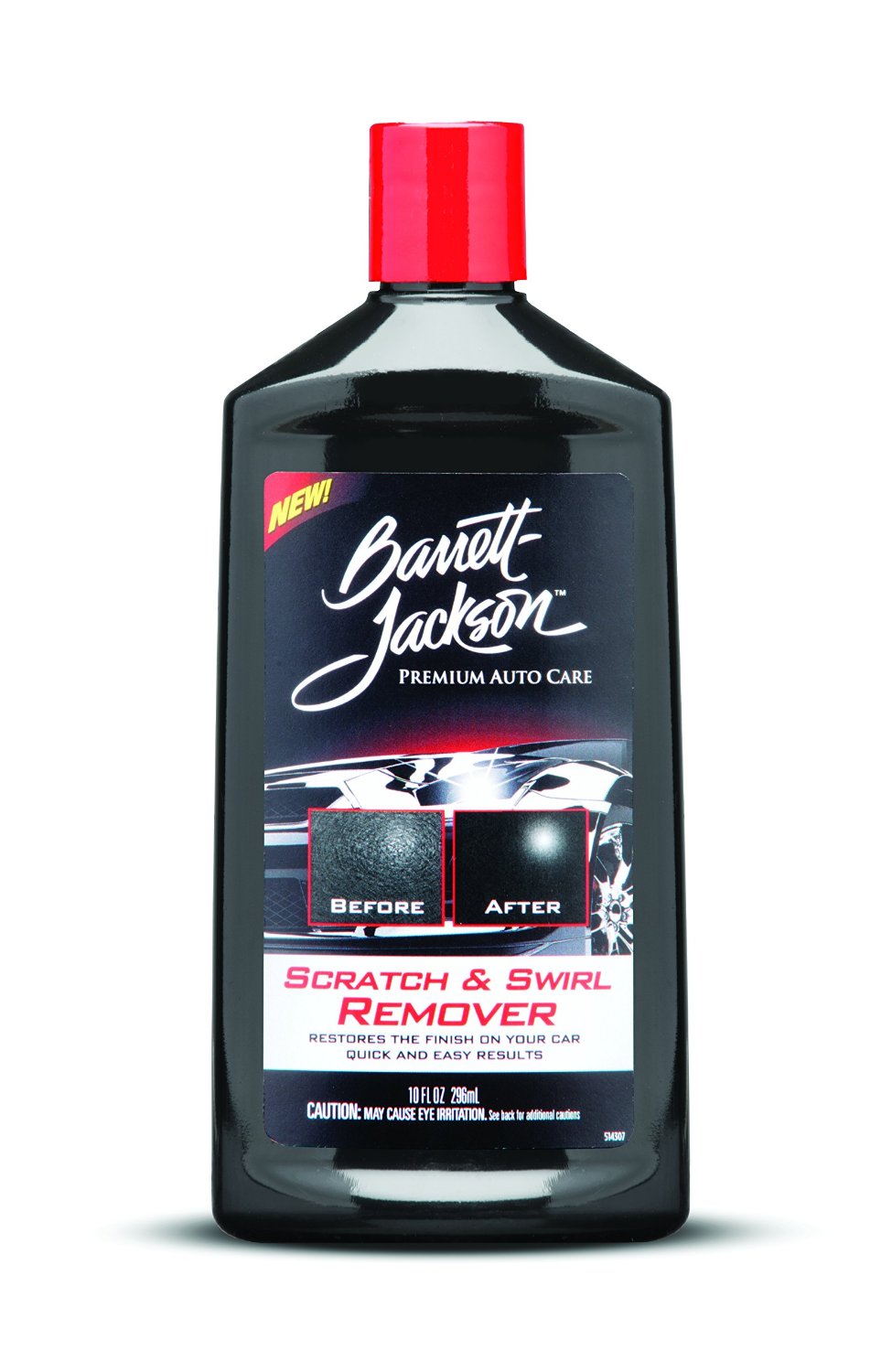 A superb polishing compound that helps in removing fine and deep scratches, and swirl marks.
Car scratch remover that produces a wet-look and glossy shine with no powdery residue.
Easy detailing – can be used safely and conveniently on all painted surfaces, including clear coat.
Just buff it on and wipe it off for easy car detailing.
Car scratch repair that is easy to use and easy to clean up.
No one wants scratches or scuff marks ruining their car's finish. That's this ultimate Car Scratch Remover is indeed an ultra-fine polishing compound designed for the fast and easy removal of the small blemishes that ruin a flawless finish. It safely removes scratches, scuff marks, and swirl marks from all painted surface.
10) Chemical Guys COM_129_16 Scratch and Swirl Remover

Price:  $22.65
Rating: 4.1 out of 5 stars, 112 customer reviews
The fastest and easiest way to remove moderate scratches and  surface imperfections
This can remove many moderate to heavy surface imperfections
Works like a compound, a polish and a cleaner
Eliminates surface imperfections
Wax and silicone free
This excellent scratch remover is the single step solution for a variety of paint problems. It surely is body shop safe and is silicone wax free. This superb product works as a compound then becomes a polish. Chemical Guys scratch removes heavy surface imperfections and up to 1700 grit sand scratches, swirls, spider-webbing and most surface imperfection. It has a unique Acu-Bead abrasive system that breaks down into finer tiny particles and eventually become a super fine micro-polish. This metamorphosis enables the user to compound and polish delivering a superior finish and protection in one convenient step. This product removes scratches, swirl marks, oxidation, spider-webbing, overspray and most surface imperfections in no time!