Car owners, especially the new, excited ones prioritize taking good care of their car's exterior appearance and spend significant portion of their budget to maintain their cars glorious cleanliness and shine. Without the help of professional car washers, washing that shiny SUV can be a tedious task that requires some big deal of time and effort. Sometimes a quick drive through the Pro car wash is all you can do to insert car cleaning into your hectic schedule
Whether you're a car lover who washes your car weekly, or someone who just wants the job done as quickly as possible, using the best power washer is an effective and efficient method for cleaning your car's exterior. A good power washer uses enough pressure to give your car the proper rinsing it needs. Rinsing your car well with sufficient water pressure prevents suds from drying up and leaving white spots that reduce the paint's glossy appearance. We've some useful tips on the proper use of a pressure washer, and it's easier than you might think.
Choose the appropriate power washer
Be sure to choose a pressure washer with the appropriate pressure level. Power or pressure is quantified in pounds per square inch (PSI) and the volume of water flow is measured in gallons per minute (GPM). The higher the PSI, the higher the pressure or the force the water will exert as it leaves the tip of the washer. The higher the GPM, the more water the washer will release.
Take note of the cleaning unit formula: PSI x GPM = cleaning units
1000PSI x 2GPM = 2000 cleaning units (1,800 to 2800 cleaning units are ideal)
Pressure washer or garden hose? Pressure or power washers are more efficient as it uses less GPM (more water conserved) with more PSI (enough pressure).
Choose the appropriate nozzle
Choosing the right nozzle size allows proper and even distribution of water across the surface of your car; thus, making sure that the car's surface is rinsed well and no suds are left. The narrower the nozzle the higher the pressure and the lower surface area is covered. The wider the nozzle, the lower the pressure and the wider surface area is covered.
Park in a good spot
Make sure to set enough distance from objects that shouldn't get wet such as electrical outlets. Wet electrical outlets can cause power shortage and pose potential danger.
Proper car rinsing
It is best to rinse your car in the shade, to prevent instant drying from direct sunlight that causes annoying white water spots. Rinse your car's surface thoroughly, leaving no suds and residues behind.
Do you find these tips useful? It is now time to check on the best power washers available on Amazon!
1) Sun Joe SPX3000 Pressure Joe 2030 PSI 1.76 GPM 14.5-Amp Electric Pressure Washer
Price: $142.99
Rating: 4.3 out of 5 stars, 3,112 customer reviews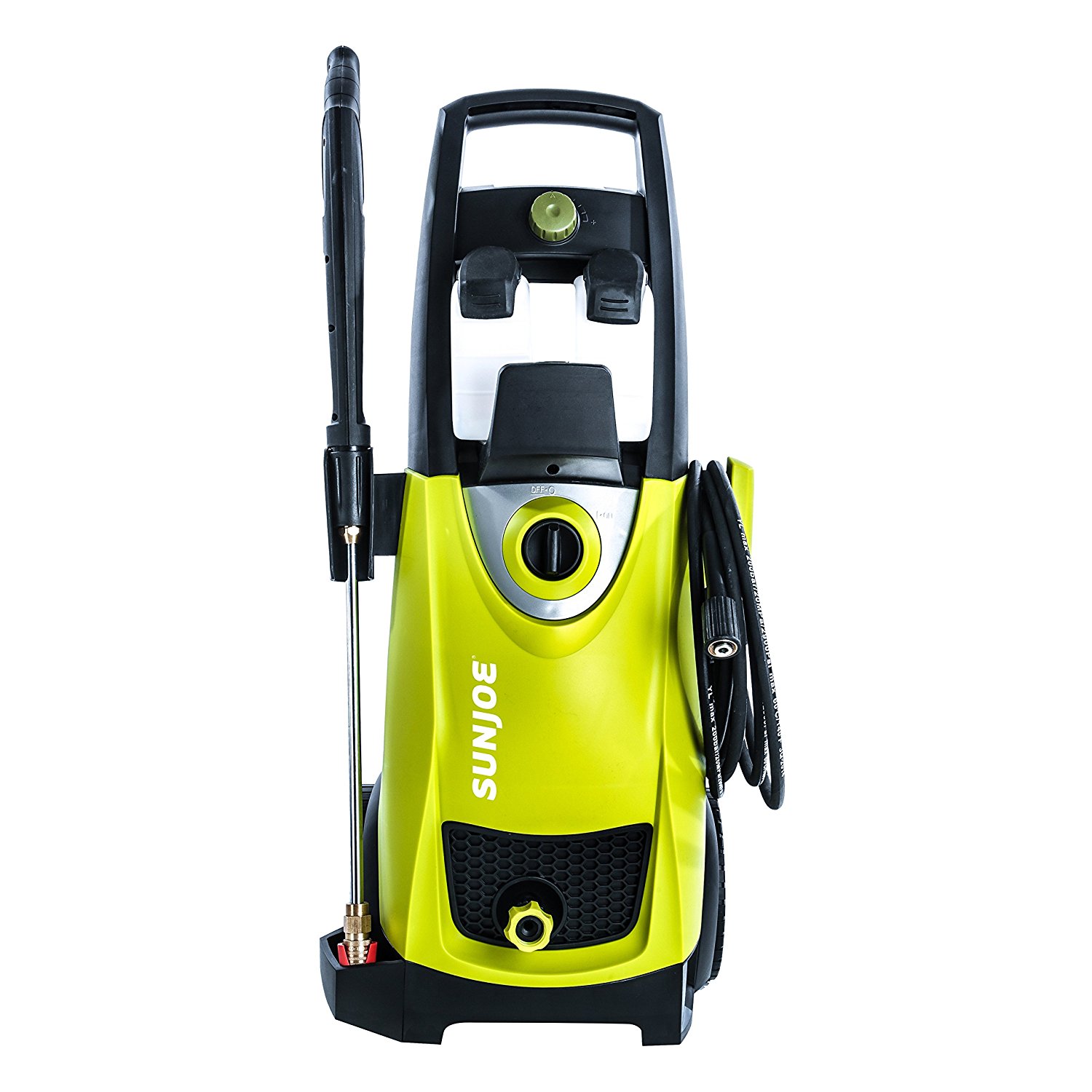 5 Quick-Connect spray tips (0º, 15º, 25º, 40º and soap) tackle light, medium and heavy duty cleaning tasks
Powerful 14.5-amp/1800-Watt motor generates up to 2030 PSI/1.76 GPM for maximum cleaning power
TSS (Total Stop System) – automatically shuts off the pump when trigger is not engaged to save energy and prolong pump life
Dual detergent tanks – two 0.9 L onboard, removable tanks carry and store different types of detergent to simultaneously tackle different cleaning projects
The SPX3000 Pressure Washer is your ultimate dirt fighter:
This pressure washer lets you tailor the pressure output of the spray to your cleaning need with Pressure Joe's five Quick-Connect spray nozzles (0º, 15º, 25º, 40º and soap). Interchange nozzles to quickly go from a high-pressure 0° pencil point jet to a low-pressure 40° fan spray or apply detergent to the cleaning surface with the soap nozzle for additional cleaning power. Other features on the SPX3000 electric pressure washer include a 20 foot high pressure hose, 35 foot power cord, garden hose adaptor, and a TSS (Total Stop System) trigger that automatically shuts off the pump when the trigger is not engaged to save energy and prolong pump life.
2) SIMPSON Cleaning MSH3125-S 3100 PSI at 2.5 GPM Gas Pressure Washer Powered by HONDA
Price: $379.99
Rating: 4.4 out of 5 stars, 862 customer reviews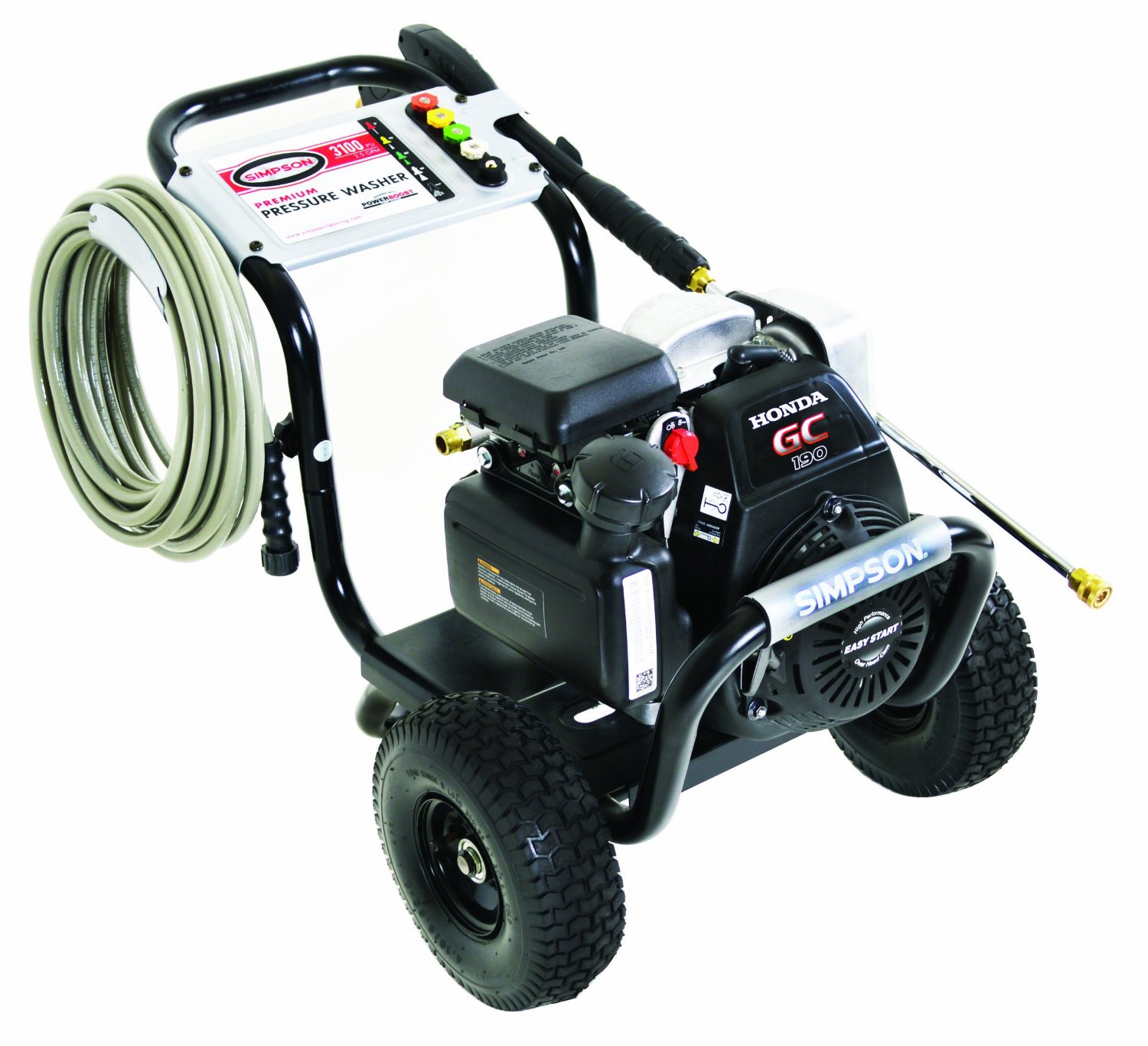 HONDA GC190 Engine
Maintenance-free OEM Technologies Axial Cam Pump with POWERBOOST Technology for Increased Performance
25-foot x 1/4-Inch MorFlex high pressure hose is kink and abrasion resistant, provides flexibility, and is equipped with M22 connectors
Heavy Gauge Frame Components, welded Steel Construction and 10-Inch Premium pneumatic tires
Pro-style spray wand with 5 quick connect nozzle tips – 0°, 15°, 25°, 40° and soap
Professional spray gun with safety lock-out
Convenient on-board accessory storage for spray gun/wand, high pressure hose, and nozzles
Especially created for the home and shop, the SIMPSON MegaShot series is perfect for the "Do-it-Yourselfer" looking for maximum performance with minimal investment. It is simple to use and great for cleaning decks, patios, house siding, outdoor furniture, and prepping home exteriors for painting. Its compact design is lightweight and small enough to be easily transported by one person. Equipped with premium HONDA OHC Engine that is built with high-quality components, designed for optimum performance in the harshest environments, and renowned for being easy to start, consistently. OEM Technologies axial cam pumps with patent pending PowerBoost technology provide higher pressure at the nozzle resulting in greater impact and cleaning performance. Please note that all of our pressure washers are 100% functionally tested in the factory and may contain minimum residual fuel or fuel odor. This is a new machine and a gas odor is normal and expected.
3) Generac 6922 2,800 PSI, 2.4 GPM, Gas Powered Pressure Washer

Price: $299
Rating: 4.4 out of 5 stars, 231 customer reviews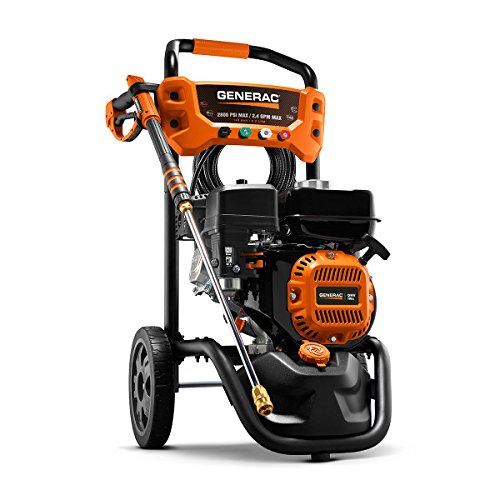 Designed with ergonomics in mind, the cushion grip handle improves comfort during cleaning. And you can hold the easy-to-pull spray trigger with minimal effort, reducing fatigue
Integrated ½-inch gallon detergent tank provides convenient on-board storage for cleaning detergents
Featuring a Generac OHV horizontal-shaft engine, the pump is well above the ground at the same level as the engine, which makes hose connections a snap
Designed with 10" never-flat wheels, maneuverability is easy, regardless of the terrain
Quick change nozzle tips 4 included (0-degree, 25-degree, 40-degree, soap) for tackling any job
For maximum cleaning performance, this pressure washer is powered by a powerful Generac OHV horizontal- shaft engine. With a horizontal-shaft engine, the pump is well above the ground at the same level as the engine, making hose connections a snap – unlike vertical-shaft engines where the hose connections are under the engine and more difficult to reach. As an added benefit, this unit features an integrated ½-inch gallon detergent tank. This onboard storage tank holds the detergents needed to clean stubborn stains. Once the detergent is added to the tank, people can easily move around the property. Maneuverability with this pressure washer is easy. The engine and pump are perfectly balanced over the axle for almost effortless maneuverability. In addition, the 10" never-flat wheels help you move across any terrain. Designed with ease of use in mind, this pressure washer features user friendly controls all in one single location – including on/off, choke and fuel shutoff.
4) AR Blue Clean AR383 1,900 PSI Electric Pressure Washer, Nozzles, Spray Gun, Wand, Detergent Bottle & Hose

Price: $199
Rating: 3.9 out of 5 stars, 3, 049 customer reviews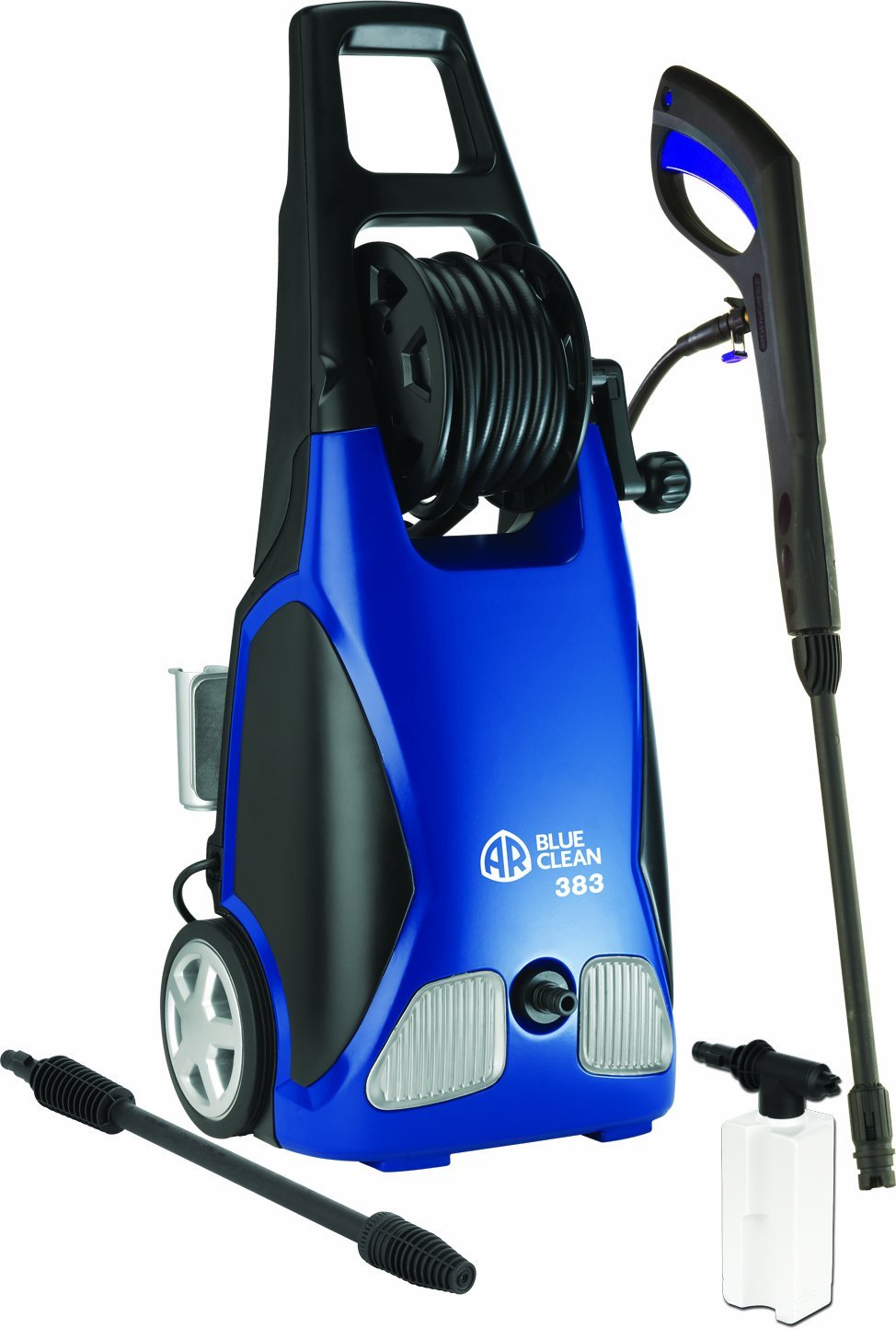 OUTDOOR CLEANING POWER: Make quick cleaning jobs of decks, patios, siding, driveways, outdoor furniture, cars, trucks, RVs, ATVs and more.
ATTACHMENTS INCLUDED: Professional-style pressure washer gun, 2 different pressure washer wands, 20 foot high pressure hose, 14 oz. detergent bottle and 2 high pressure quick change wands with pressure washer turbo and variable nozzles.
ENVIRONMENTALLY FRIENDLY: Conserves water by using 80% less water with 40% more power than a standard garden hose. Quieter than gas engine models.
EASY TO ASSEMBLE: Pull it out of the box, insert the hose reel and attach the handle. Connect the high pressure hose and garden hose. Plug the GFCI to a 3 prong outlet with a ground. Pull the trigger to start cleaning.
CUSTOMER SERVICE: Best in class support. Contact us at anytime in Fridley, Minnesota using the information found in the owner's manual.
The AR Blue Clean AR383 electric pressure washer quickly blasts away dirt, mold, moss and grime to reveal a fresh clean look. Pressure clean wood surfaces like decks, siding and fences clean to look new again with no need to sand, scrape, or paint. It is safe to use on most concrete, stone and stucco surfaces. Clean cars, trucks, motorcycles, RVs, ATVs and bicycles in minutes. Don't forget patio furniture, garbage cans, pet cages, lawn mowers, outdoor equipment and much more. The AR383 electric pressure washer features a 1.5 HP with 13 AMP universal motor and tri-axial pressure washer plunger pump delivering a peak 1900 PSI to make it a powerful, durable and reliable electric pressure washer. It is much quieter than a gasoline pressure washer.
5) THE FORCE 1800 – POWERHOUSE INTERNATIONAL – PULL BEHIND – 1.6 GPM 1800 PSI (2600 PSI – "IPB") Electric Pressure Washer

Price: $119.80
Rating: 4.3 out of 5 stars, 238 customer reviews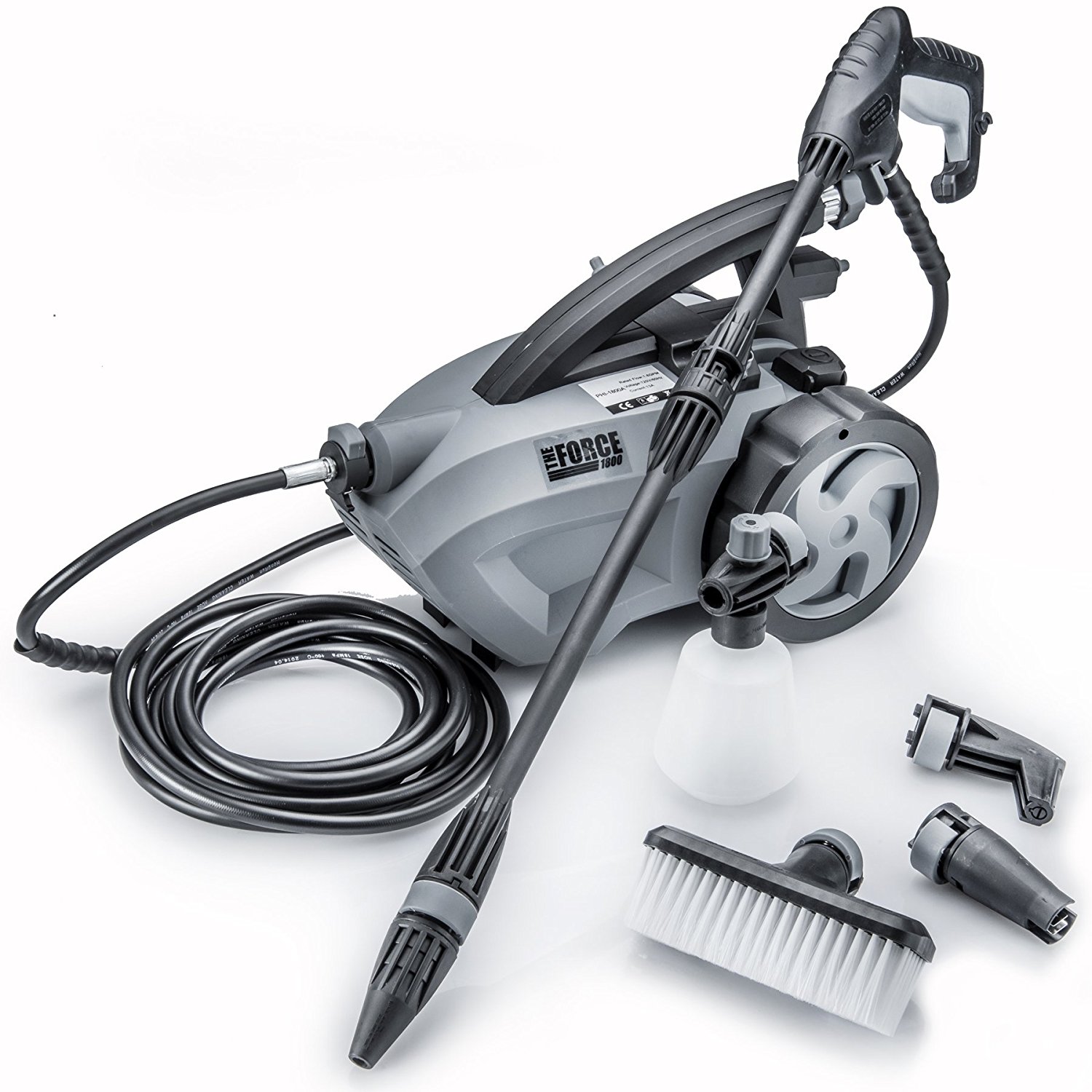 Total Stop System (TSS) – Motor shuts off when trigger is released, prolongs motor life
Unique foot operated on/off switch
Brush motor with thermal sensor to protect from overheating
Self Storing accessories for organized, compact, portable storage
Working Pressure: 1600-1800 PSI and 1.6 GPM – 2600 PSI "IPB" (Initial Power Burst)
This Low Profile, Compact, Highly Mobile Workhorse will be the envy of your neighborhood! The force 1800 is a cold water electric pressure washer. Our pressure washer is equipped with a Total Stop System (TSS) trigger gun which has a trigger safety switch and the motor shuts off automatically when the trigger is released. This feature will prolong the motor life of your washer. Additional accessories include an adjustable nozzle which changes the spray from a wide fan to a pencil point, a spinning turbo nozzle which removes debris an dirt quickly from most surfaces and an angle nozzle for hard to reach places such as under automobiles and or in gutters. THE FORCE 1800 also boasts an attachable soap/ foam bottle that adjusts the amount of soap dispensed with a quick twist and an attachable soft bristle cleaning brush. For your safety, a GFCI plug and automatic safety valve with a low pressure by-pass is standard on all Powerhouse International models. Our pressure washers are CE, GS, ROHS an EMC certified. You will absolutely "LOVE" how well this product cleans!
 6) GreenWorks GPW1501 13 amp 1500 PSI 1.2 GPM Electric Pressure Washer

Price: $99
Rating: 4.2 out of 5 stars, 160 customer reviews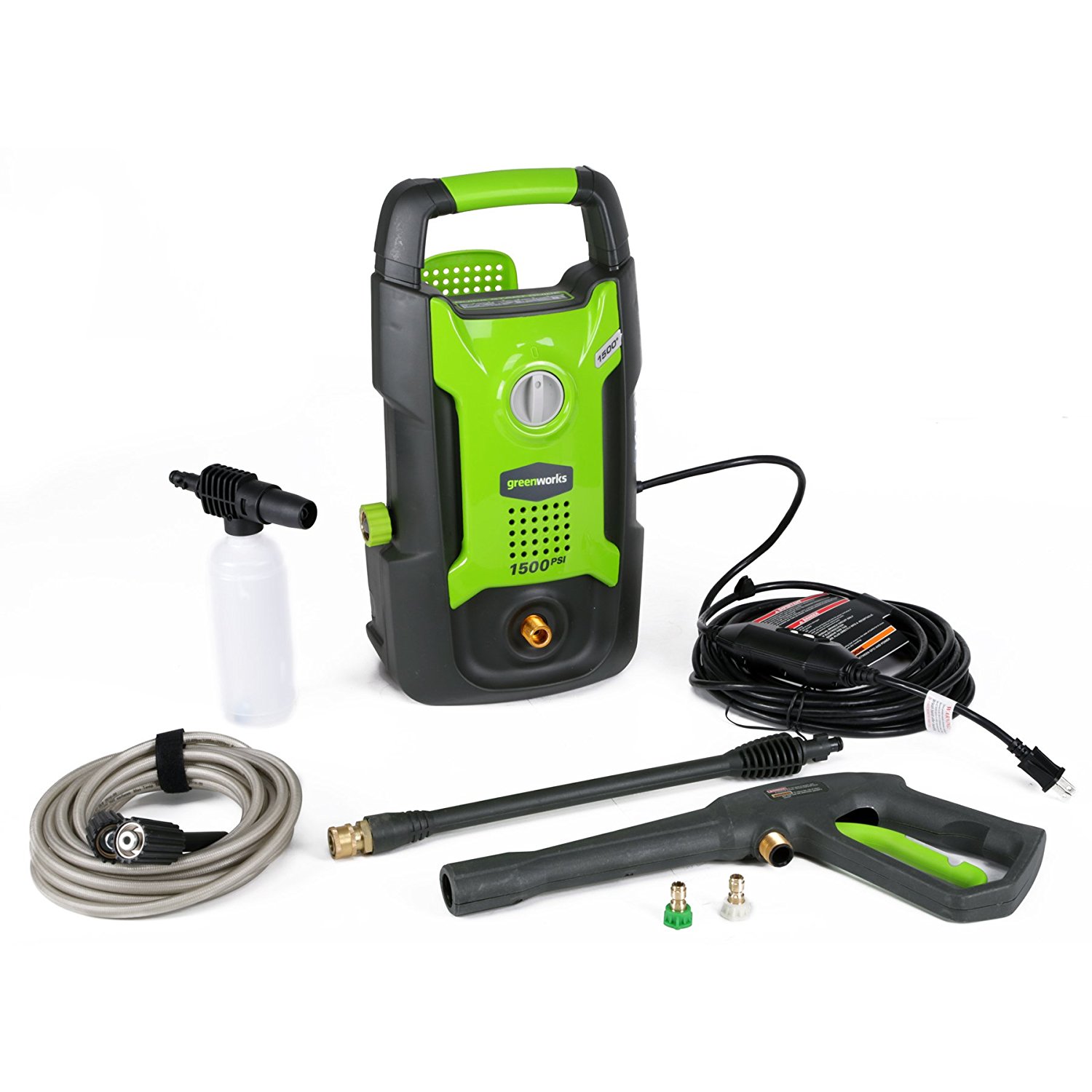 1500 PSI at 1.2 GPM will blast through grime and dirt to restore your surfaces
Can be used vertically or horizontally for greater stability during use
Includes a 25° and 40° quick connect tip for a variety of cleaning applications
20 ft. High pressure hose for greater reach
Soap applicator to apply soap to completely clean any surface
35 ft power cord with inline GFCI for use on all exterior outlets
GreenWorks offer a range of systems to choose from in corded and cordless tools. Leading in innovation, the corded Lawn system offers a variety of tools to get all your yard work done quickly and efficiently. Whether you need something economical or with greater performance, the GreenWorks Corded Lawn Tools provide reliable options without the hassle of gas or the high cost of operation throughout the years. Get started within seconds and leave the gas hassle behind. Choose from trimmers, chainsaws, mowers, snow throwers, dethatchers, pressure washers and more-all GreenWorks pressure washers are backed by a 1 Year Warranty.
7) Karcher G 2700 Gas Power Pressure Washer, Performance Series, 2700 PSI, 2.5 GPM

Price: $233.23
Rating: 4.1 out of 5 stars, 78 customer reviews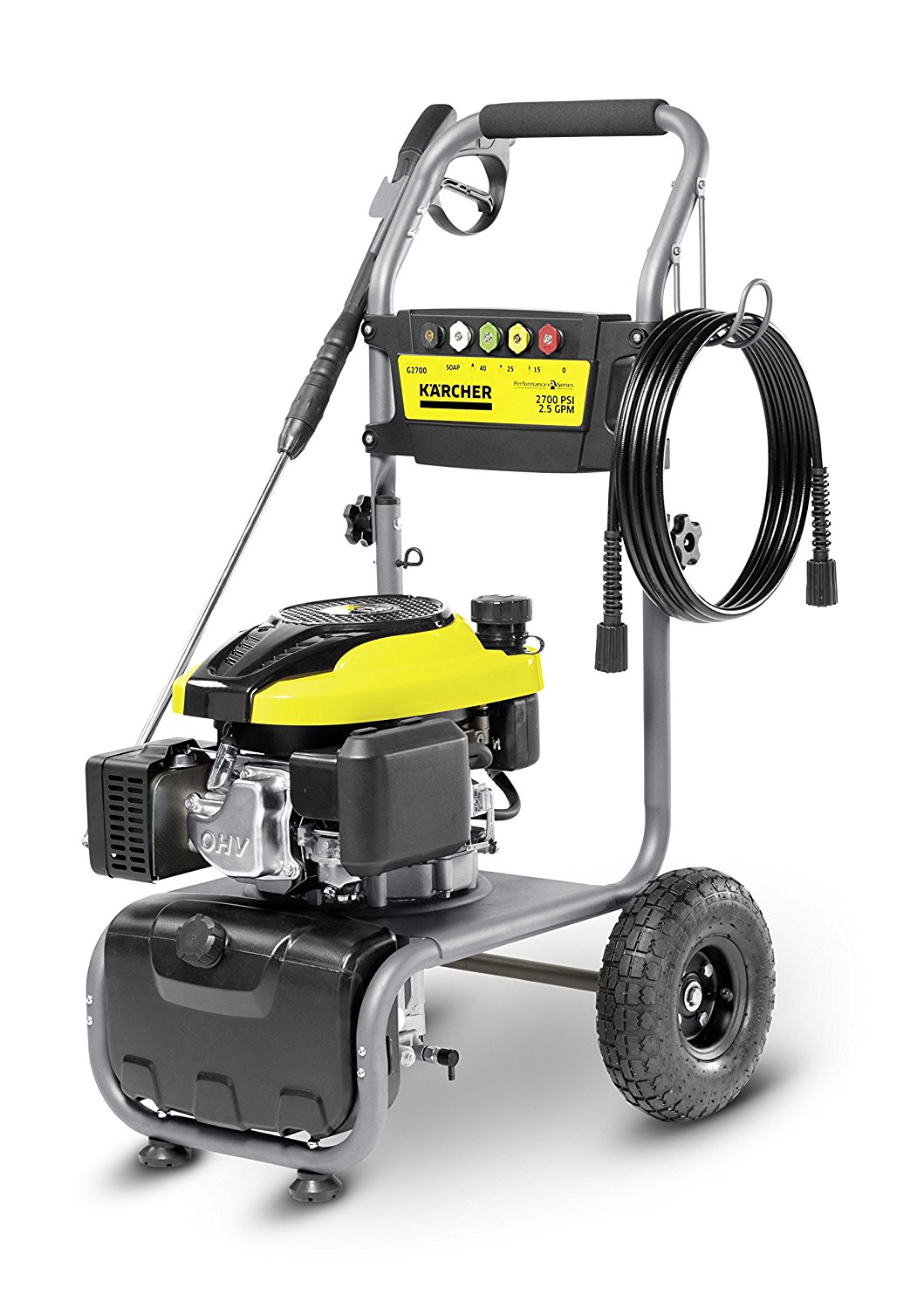 The Karcher Promise: Cleaner. Quicker.
Performance driven Karcher KPS 196cc engine
Axial cam pump with aluminum head
Folding handle for compact storage – Onboard detergent tank
8″ Pneumatic tires – Welded steel frame
5 Pro-style quick connect nozzles (0°, 15°, 25°, 45°, 65°/detergent) – Upright design with small storage footprint
From the world's bestselling brand of pressure washers
Karcher's gas pressure washer line offers exceptionally durable pressure washers for the home. With a welded steel frame, the G 2700 is built to last and can withstand the rigorous demands of frequent use. Delivering up to 2700 PSI, the G 2700 delivers the right amount of cleaning power for general household jobs.
The folding handle allows convenient and compact storage. Five pro-style quick connect nozzles provide effective spray patterns for all cleaning chores around the home.
8) Ivation Electric Pressure Washer 2200 PSI 1.8 GPM with Power Hose Nozzle Gun and Turbo Wand, All Parts Included, W/ Built in Soap Dispenser

Price: $199.99
Rating: 4.1 out of 5 stars, 750 customer reviews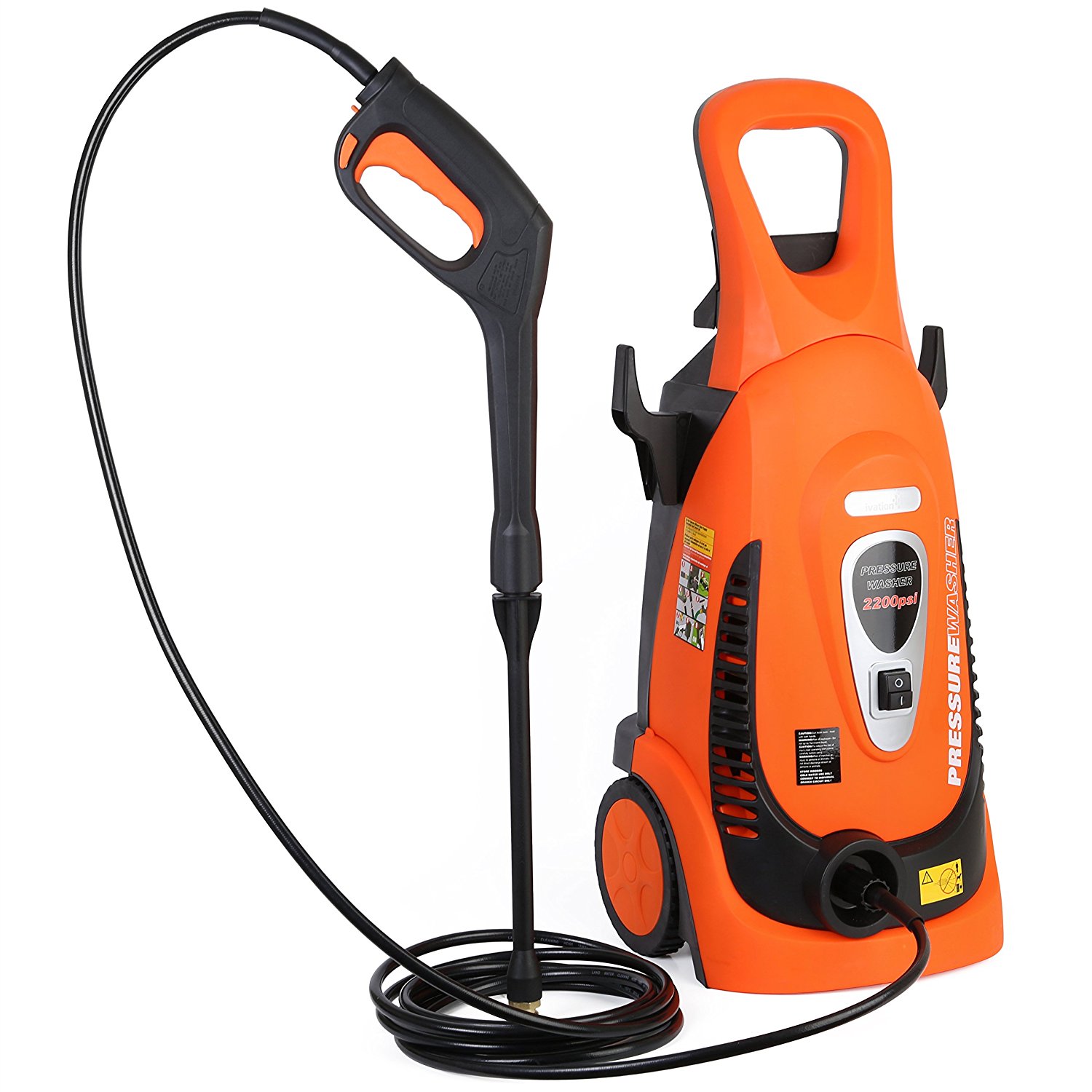 Incredible Cleaning Power Generated by the 1800 Watt/14.5 amp Motor Outputs a Whopping 1.8 GPM and 2,200 PSI Pressure for Maximum Cleaning and Scrubbing Power
5 Interchangeable High and Low Pressure Nozzles Wash Various Surfaces (0º, 15º, 25º, 40º and soap); Bonus Turbo Wand Included
Easy-to-Use System Requires Just 30-Second Setup w/Three Simple Attachments, The Unique Copper Connections are Easily Joined to Hose and Nozzle for Quick, Effortless Hookup
Power Washer Features Safety Automatic Total Stop System (TSS), Optional Self Suction, & Soap Dispenser
Ideal Pressure Cleaning Solution for all Types of Vehicles, Cars, SUV's, ATV's, Boats, RVs, and Homes, Driveways, Decks and Patios, Easily Gets rid of Dirt, Grime, Gunk, Oil, Rust, Mildew and Grease and the Toughest Spots – Includes a 1 Year Warranty
9) Briggs & Stratton 20545 2200-PSI Gas Pressure Washer with 550e Series OHV 140cc Engine, 1.9 GPM

Price: $350
Rating: 3.9 out of 5 stars, 15 customer reviews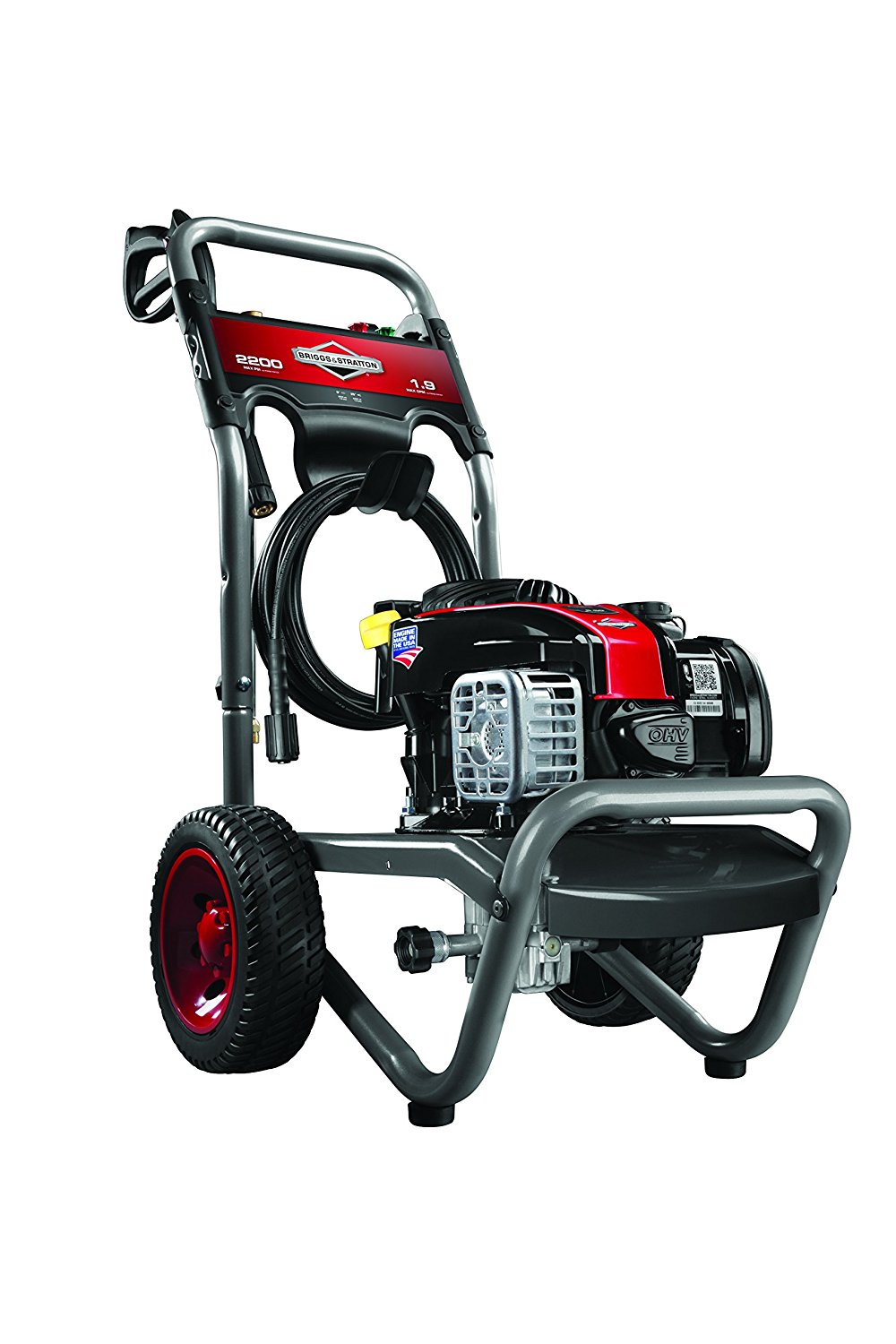 Used for washing cars, driveways and other small to medium projects
550e Series 140cc Engine to power through your weekend projects
Detergent injection system infuses cleaning solution into the water stream for a faster, easier cleaning
50-pound assembled weight and never go flat wheels
2-year limited warranty
From washing cars, trucks, siding, and patios to blasting away stubborn driveway dirt, this powerful Briggs & Stratton pressure washer can handle an array of outdoor cleaning projects. Multiple spray tips also give you more cleaning power, performance and versatility.
The 20545 features a Briggs & Stratton 550e Series OHV engine, which produces 5.5-foot-pounds of rotation. The unit also features a maintenance free axial cam pump with Easy Start technology for high pressure output and effortless starting.
10) Yamaha PW3028A Pressure Washer

Price: $860.74
Rating: 5 out of 5 stars, 1,904 customer reviews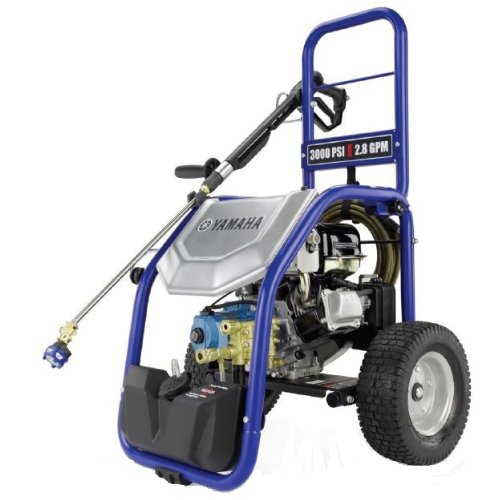 Uses regular 87 octane gasoline
Wide, non-pneumatic tires mounted to rugged steel axles
Quick connect, corrosion resistant, brass fittings mean a solid, positive connection each and every time
Built-in detergent tank for smaller jobs and the flexibility to use an external container for larger jobs, if required
Braided steel, high-pressure hose means a longer reach and rugged durability
The Yamaha PW3028A Pressure Washer makes storage and transporting easy, plus takes up less space. Fold flat handle design allows you to store lightweight items like a cooler on top of the unit. The adjustable secondary grip adds additional support and can be rotated to any angle required. The pivoting nozzle tip makes it easy to get into those hard to reach spots. One of the 5 integrated nozzles is a low pressure 800psi, perfect for those jobs that require less pressure. You always have the right nozzle for the job. Just dial the one you want with a simple click. No lost nozzles. Rubber over mold protects what you are washing from scratches. Delivers 3000 psi and 2.8 GPM to get the job done quickly.