Chevrolet owners have used more than 3 million gigabytes of data since OnStar 4G LTE launched in June 2014
Chevrolet is reducing its OnStar 4G LTE data plan pricing by up to 50 percent just in time for the Independence Day weekend, when AAA projects 36 million Americans will drive to holiday destinations.
As the first automaker to offer 4G LTE connectivity across its entire retail portfolio, Chevrolet has sold more than 2.1 million OnStar 4G LTE-connected vehicles since June 2014 and is an industry leader in bringing this technology to the masses.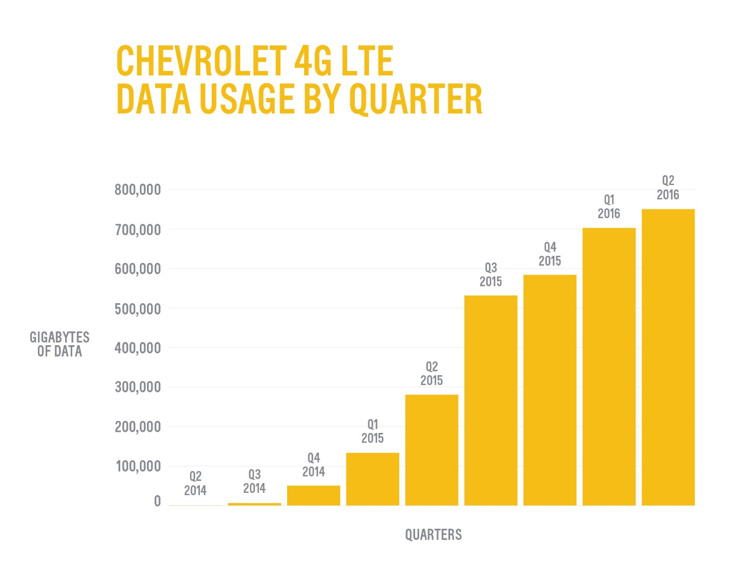 In only two years, Chevrolet customers have consumed more than 3 million gigabytes of data – the equivalent of streaming more than 100 million hours of music – and Chevy in-vehicle data usage continues to trend upward.
"Wireless connectivity has proven to be a beneficial technology for many Chevrolet customers, from contractors who use their Silverado as a mobile office to families using their Suburban on a summer road trip," said Sandor Piszar, Chevrolet truck marketing director. "As our customers increase their usage of the technology, we are able to make it more affordable for them."
More than 60 percent of Suburban owners and passengers use their OnStar 4G LTE Wi-Fi hotspot, with Tahoe and Traverse hotspot usage not far behind. Not surprising when you consider those vehicles are typically for families and you can connect up to seven devices to the hotspot. The high-volume Silverado accounts for the largest amount of data usage, with customers consuming more than 1 million gigabytes of data to date.
A 4G LTE connection comes standard on all new Chevrolet retail models with the OnStar Basic Plan, which also features remote vehicle access and the AtYourService marketplace via the myChevrolet mobile app.
The new data pricing constitutes a 50 percent reduction for most plans with the all-new 4 GB monthly plan representing four times the amount of data available previously for $20 per month.
| Data Plan | Old Pricing | New Pricing |
| --- | --- | --- |
| 1 GB / month | $20 | $10 |
| 4 GB / month | N/A | $20 |
| 10 GB / month | $80 | $40 |
| 20 GB / 12 months | $150 for 10 GB / 12 mos. | $150 |
"As more people embrace the technology, it brings down the cost of entry for all users," said Laura Keck, OnStar Subscriber Marketing Strategy manager. "With these lower prices, we expect even more customers to use 4G LTE connectivity during this busy summer driving season."