Nissan and ESPN introduce the latest Heisman House cast with an epic, one-take style 90-second video titled "Welcome to the House," in which newbie Derrick Henry flies his drone through the House catching the other Heisman winners in unguarded moments.
New additions to the fictional fraternity this year include: Derrick Henry, Tim Tebow and Danny Wuerffel. They join returning House members: Marcus Mariota, Mark Ingram, Carson Palmer, Matt Leinart, Tim Brown, Tony Dorsett, Eddie George, Charlie Ward, Doug Flutie, George Rogers and Herschel Walker.
The Nissan Heisman House campaign supports Nissan's now 11-year sponsorship of the Heisman Memorial Trophy Award and the Heisman Trophy Trust, a charitable organization focused on outreach to the underprivileged and underserved.
"Each year we take our partnership with the Heisman Trust's outstanding charity efforts to a new level, and we continue to enjoy the opportunity to entertain fans with our Heisman House campaign," said Jeremy Tucker, vice president, Marketing Communications and Media, Nissan North America, Inc. "This year's great cast of roommates will not disappoint and there are a number of surprises in store as we let them loose to showcase their talents, both as the top football players of their eras and as winning performers and media personalities today."
Now in its sixth year, the Nissan Heisman House campaign stars 14 Heisman Trophy winners in a series of TV spots airing on ESPN beginning Sept. 1 and running throughout the season. It gives fans a glimpse of what it might be like if the winners of football's highest individual honor – the Heisman Trophy – lived together under one roof.
The 2016 campaign includes four 45-second spots and five 15-second spots. Eight Nissan vehicles will be featured most prominently throughout the campaign, including the Rogue, TITAN and Armada, which are part of Nissan's "Year of the Truck" focus. Highlights include:
Tebow's Dream (45 seconds, to debut on Sept. 1), in which Tim Tebow creates a new musical genre with fellow Gator Danny Wuerffel. The result is the most Gatorific music video ever made.
Starter House (45 seconds, to debut on Sept. 3), Mark Ingram schools his schoolmate, Derrick Henry, on where the new Heisman winners stay: a tiny Heisman House.
Go Deep (45 seconds), Doug Flutie re-lives one of the greatest college football plays of all time: The Hail Flutie.
Welcome (45-seconds), a shortened version of the introductory spot.
Rook (15-seconds), Charlie Ward takes Heisman House rookie Henry through a driveway filled with current and classic Nissan and Datsun vehicles. Amidst his amazement, Henry realizes that he has some cleaning to do, taking over for last year's newcomer, Mariota.
And, in The Derrick Henry Effect (15-seconds), Marc Ingram demonstrates how people shrink next to Derrick Henry.
Central to the Heisman House campaign is the online platform, NissanHeismanHouse.com, where fans can cast their votes for the next Heisman Trophy winner, watch for upcoming game-day stops of the Heisman House Tour, and see behind-the-scenes footage filmed during the campaign production.
The Nissan Heisman House Tour features a simulated Heisman House that will travel to different college campuses throughout the U.S. leading up to the College Football Playoff National Championship in January. The Tour provides fans an opportunity to enjoy the Heisman House living room, take photos with the Trophy, and meet Heisman Trophy winners as well as ESPN on-air talent. The tour's first stop is on Sunday, Sept. 4 for the Notre Dame versus Texas game at DKR Memorial Stadium in Austin, Texas.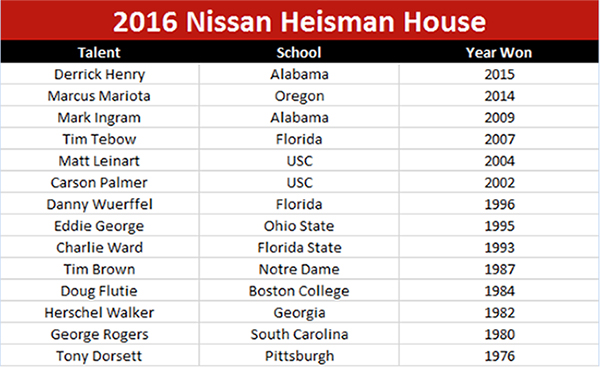 There is also a robust social campaign this year, including weekly thumb wars of high profile match-ups narrated by SportsCenter anchor, Neil Everett, and other content relevant to college football fans. In addition, there are print ads, radio ads and an interactive website that houses shareable online videos.